As Myanmar's military celebrated the annual Armed Forces Day holiday with a parade in the country's capital, soldiers and police elsewhere reportedly killed dozens of people as they suppressed protests in the deadliest bloodletting since last month's coup.
The online news site Myanmar Now reported late Saturday that the death toll had reached 114. A count issued by an independent researcher in Yangon who has been compiling near-real-time death tolls put the total at 107, spread over more than two dozen cities and towns. Both numbers are higher than all estimates for the previous high on March 14, which ranged in counts from 74 to 90. More than 260 people have been killed in the recent crackdown, according to activist groups
"This 76th Myanmar armed forces day will stay engraved as a day of terror and dishonor," the European Union's delegation to Myanmar said on Twitter. "The killing of unarmed civilians, including children, are indefensible acts."
Is Myanmar quickly descending into a deeper "hot" civil war that could have far-reaching implications, not only regionally but on the larger geopolitical stage with China and the U.S.?
Here is a brief report on events on the ground in Myanmar.
In his speech Saturday, Min Aung Hlaing used the occasion to try to justify the overthrow of Suu Kyi's government, accusing it of failing to investigate irregularities in last November's general election and repeating that his government would hold "a free and fair election" and hand over power afterward. The military has claimed there were irregularities in the voting rolls for the last election, which Suu Kyi's National League for Democracy party won in a landslide.
The junta detained Suu Kyi on the day it took power and continues to hold her on minor criminal charges while investigating allegations of corruption against her that her supporters dismiss as politically motivated. Phil Robertson, deputy Asia director for New York-based Human Rights Watch, said Saturday's events showed that the military, known in Myanmar as the Tatmadaw, should be prosecuted in international courts of law. International organizations have widely accused Tatmadaw of human rights offenses, including ethnic cleansing. Aung San Suu Kyi's has also got in hot water over ethnic comments about Muslims.
Ten ethnic armed groups who had previously agreed to cease-fire talks with the Tatmadaw in a bid to end decades of hostilities opted to break that deal. These groups are among the ethnic rebels that have an estimated 100,000 armed troops in their ranks. The Tatmadaw is believed to number 350,000, making it Southeast Asia's second-largest armed force. The Karen and Tatmadaw conflict has been described as the world's "longest-running civil wars." Around 20% of the Karen are Christian, whereas 75% are Buddhists. Read more on Myanmar's ethnic challenges here.
Since then, these insurgent groups from the Karen, the Shan, and the Kachin have become emboldened in their anti-junta positions. The armed wing of the Karen National Union (KNU) recently cut the food supply lines to feed soldiers deployed near the Thai-Myanmar border, according to media reports. Elsewhere, according to local sources, the armed wing of the Kachin, active close to the Myanmar-China border, launched fresh strikes against military positions this month. Last Sunday, a battalion of the Kachin Independence Army mounted dawn attacks on three Tatamadaw-held bases. The KNU has already condemned the coup and no longer recognizes the Tatmadaw as a legitimate actor.
The Tatmadaw resources are also being stretched as China pressures the junta to protect its economic assets after 32 Chinese-owned factories in Yangon were torched this month. The investments were part of China's multibillion-dollar stake in Myanmar, spanning an oil-and-gas pipeline and large infrastructure projects as part of Beijing's Belt and Road infrastructure initiative.
"Threats to Chinese property and lives will be taken very seriously and, as has already been seen, diplomats will want to show an immediate response," said a senior analyst at a Yangon-based think tank, who spoke on condition of anonymity. "But Chinese officials also know that relations will have to be maintained with all sides in the current impasse, including the military government, NLD and ethnic nationality movements because it is too early to know who will ultimately succeed." In the end, China will be the backdrop "King-Maker" on who will eventually win. For sure, China has too much to lose to allow this region to spin out of control.
What are the wider implications?
Myanmar's current crisis is not happening in a vacuum. As a backdrop to the Southeast-Asian region's events, the COVID19 "pandemic" and its economic fallout have yet to be fully understood. Some fear the worst is yet to come. The following is a brief high-level review of the geopolitical issues ongoing in the Southeast-Asian region today.
The Rohingya conflict is an ongoing conflict in the northern part of Myanmar's Rakhine State (formerly known as Arakan), characterized by sectarian violence between the Rohingya Muslim and Rakhine Buddhist communities, a military crackdown on Rohingya civilians by Myanmar's security forces. The conflict arises chiefly from the religious and social differentiation between the Rakhine Buddhists and Rohingya Muslims. During World War II in Burma (present-day Myanmar), Rohingya Muslims, who were allied with the British and promised a Muslim state in return, fought against local Rakhine Buddhists, who were allied with the Japanese.
Just recently, it has been reported that a huge blaze that ripped through a sprawling Rohingya refugee camp in Bangladesh has forced at least 50,000 people to flee and left seven people dead, officials and aid workers said, in the biggest fire to hit the shanty settlement to date. Nearly one million of the persecuted Muslim minority from Myanmar – many of whom fled a military crackdown in their homeland in 2017 – live in cramped and squalid conditions at the camps in the Southeastern Cox's Bazar district. It is the third fire to hit the camps in four days.
Officials said the latest blaze appeared to have started on Monday in one of the 34 camps – which span about 8,000 acres (3,237 hectares) of land – before spreading to three other camps, with refugees fleeing the shanties with whatever belongings they could carry.
The Philippines are experiencing an unprecedented Chinese provocation. There is an international alarm by massing Chinese ships in the South China Sea near a reef claimed by both China and the Philippines. This week, Manila formally protested what it called a violation of "its sovereignty, sovereign rights, and jurisdiction." The United States and Western allies backed the Philippine call for China to immediately withdraw what appears to be a flotilla of fishing vessels.
Satellite imagery obtained by NPR from Maxar Technologies shows Chinese vessels moored in the crook of the boomerang-shaped coral bar known as Whitsun Reef — also called Julian Filipe Reef in the Philippines and Niu'e Jiao in China. It lies 175 nautical miles west of the western Philippine province of Palawan, well within the country's 200-mile exclusive economic zone.
The images show Chinese boats, some lashed 10 abreast together, lingering in the waters of the reef that lies just beneath the surface. The Philippine coast guard reported spotting 220 vessels on March 7.
The Taiwan air space is being violated almost on a daily basis – it is even starting to ramp up. At least 20 Chinese military aircraft entered Taiwan's air space, according to Taiwan's defense ministry. It is the largest incursion by China's air force since Taiwan's defense ministry has announced almost daily Chinese military exercises into its air space, per Reuters. A person familiar with Taiwan's defense planning told Reuters that the Chinese military was simulating an operation against U.S. warships sailing through the Bashi Channel.
China has said the exercises are meant to show its determination to defend the island, which it considers part of Chinese territory, though Taiwan's status is one of the most sensitive political issues between Washington and Beijing. Friday's exercises involved four H-6K bombers, which have nuclear strike capabilities, 10 J-16 fighter jets, and six other military planes. Taiwan said it warned the planes by radio that they were violating its airspace and deployed air defense missile systems to "monitor the activity" of the flight after the aircraft did not change course.
North Korea has claimed the missiles it launched this week were a "new-type tactical guided projectile" in its first statement since the test. It was the country's first ballistic launch in almost a year and the first since Joe Biden became US President. Mr. Biden has said the US would "respond accordingly." The US, Japan, and South Korea have condemned the tests. Under UN Security Council resolutions, North Korea is banned from testing ballistic missiles. Many country's intelligence agencies consider North Korea a proxy for China's interests.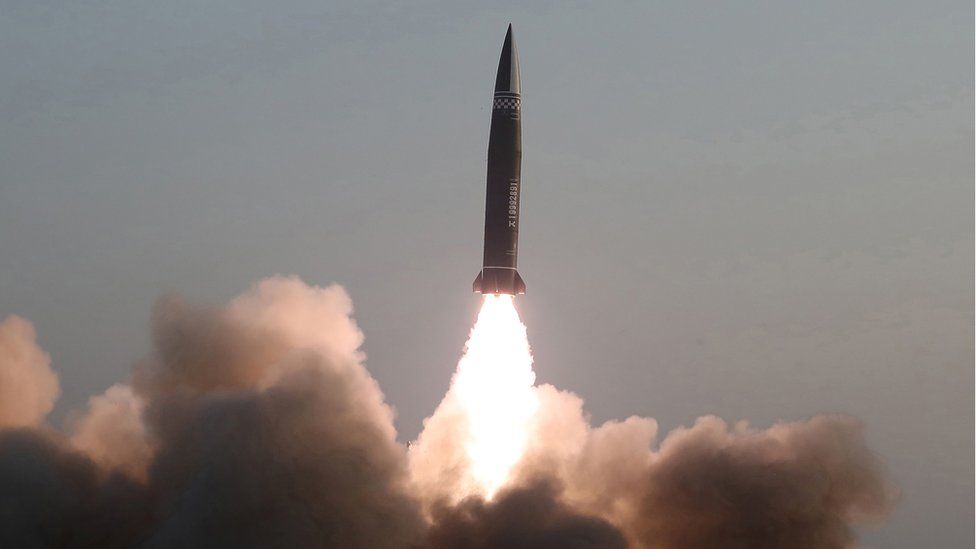 The country's Friday statement, issued through state media outlet KCNA, says the two weapons struck a test target 600km (373 miles) off North Korea's east coast, disputing Japanese assessments that they flew just over 400km. It added that the new missile is able to carry a payload of 2.5 tons, which would make it capable of carrying a nuclear warhead.
India's most vulnerable Achilles' heel lies in the restive Kashmir region, where China is likely to act to constrain India's options, morale, and abilities. Kashmir has been the most militarized border in the world – skirmishes happen almost daily.
The Kashmir valley has been in turmoil for the last three decades. During this time, it has witnessed a violent anti-India jihadist movement in a social-political milieu that is overwhelmingly radicalized on religious lines and has a strong Pakistani intelligence footprint. The region is also highly resentful towards India.
Imagine a situation in which India faces two-front aggression and China and Pakistan cooperate in orchestrating large-scale social unrest in the Kashmir valley. India's adversaries could significantly slow and hinder the movement of Indian security forces as all the road routes to the Chinese and Pakistani borders pass through the Kashmir valley. In the recent stand-off with China, India could mobilize such a massive deployment because there was no local resistance hindering the movement of Indian Army convoys on newly-built road infrastructure.
Hong Kong is no longer Hong Kong, and China's growing military capabilities are eyepopping. Last year's pro-democracy Hong Kong protests have all but been squashed.
China's annual national political gatherings, known as the two sessions, recently in Beijing, have drawn attention across the international community, in part due to China's growing military and technological power. This year's key policies made by the NPC included a decision that further strengthened Beijing's control over Hong Kong by constraining people's participation in politics. "One country, two systems" is no longer applicable to the region.
The meetings also included the announcement of a 6.8% increase in the national defense budget compared to the previous year, bringing total spending to US$209 billion. To reflect President Xi Jinping's guideline to the People's Liberation Army to 'ensure the political loyalty of the armed forces, "strengthen them through reform, science and technology" and 'run them in accordance with the law,' the budget increase is to accelerate the pace of modernizing the PLA as well as reform military training by establishing a new system for personnel.
The budget increase also indicates that China's regional security concerns are growing, including cross-strait issues with Taiwan, disputes in the South and East China Seas, and escalating competition with the United States. It's important to note that official Chinese figures never reveal total defense spending, so the actual amount is probably considerably higher than US$209 billion. Estimates made by think tanks SIPRI and IISS have significantly exceeded the Chinese government's published figures in past years.
Japan is not sitting idle. The U.S. military and Japanese Self Defense Forces have mutually committed to strengthening alliances, training opportunities, and joint military exercises as part of a decided effort to take a stronger stance against Chinese provocations in the region.
Following a recent meeting in Japan, Defense Secretary Lloyd Austin and Japanese Defense Minister Nobuo Kishi identified a handful of concerns specific to China, such as its provocative maneuvers in the South China Sea and disputed Senkaku Islands in the East China Sea.
"In order for the U.S. forces and the self-defense force to serve the missions, we agreed on the notion of the necessity to engage in more sophisticated bilateral, as well as many multilateral exercises," Japanese Defense Minister Nobuo Kishi said, according to a Pentagon report.
The Lloyd-Kishi discussions covered a number of key areas, including a focus upon a recent Chinese law that authorizes the Chinese Coast Guard to patrol the Senkaku Islands, a development prompting Japanese concern as the area is claimed by Japan but has been a subject of dispute for many years. As far back as 2012, the Chinese launched a military faceoff with the Japanese when it sent Chinese navy ships to the Senkakus.
In response to the Japanese concern, U.S. officials reiterated that the Senkakus come under Article 5 of the U.S.-Japan treaty mandating America's defense of Japan, a Pentagon report states. This is quite significant as in a manner almost analogous to the North Atlantic Treaty Organization's Article 5 Defense clause, which ensures a collective response to any hostile attack.
Will China go on the offense?
Many feel that China's past juggernaut of an economy will continue. These past economic successes have placed high-expectations on their population. But China may be hitting an economic wall as they hit an economic barrier of global market saturation. China's labor cost advantage has dissipated with its rising labor costs – the offshoring game has reached its limit. The idea was that they needed to transform their export lead economy to an internal consumption economy. This has not happened.
The writing is on the wall – see here. China needs to prepare for much lower growth rates more in line with the rest of the developed world of 2 to 4 percent. China's growth will most likely decline to 2 to 4 percent over the next coming few years – representing a potentially severe recession. Given China's relatively high GINI index (wealth inequality), internal conflict may loom. China must continue to expand the only way they know how via exports and foreign expansion. To expand, China must maintain political and military control over its markets in order to achieve this foreign expansion.
Myramar, having a significant border with China and other nations in its region, is on the Chinese target list for control. Push back from these regional nations is inevitable. If Myramar spins out of control, it could be the flashpoint to the start of a regional war that spreads to other countries – all taking advantage of the conflict to settle past disputes. Can China allow this to happen? China may feel that the best option is a swift draconian act to seize control over their neighbors and install puppet democracies lead by them. Perhaps China already understands this threat and is already actively managing the geopolitical map to this conclusion.
One can not know for sure whether China feels it is ready to flex its muscles and act militarily. China may be strong enough to where major global powers would look the other way if China acts. Western democracies are too busy dealing with COVID19 and internal social issues to defend this threat. Perhaps China has also ensured that these Western democracies are weak by either engineering or exacerbating these Western democracies' issues with their extensive infiltration. This China decision is coming closer and maybe inevitable. Will Myanmar be the trigger?
So, where is the U.S. in all this?
With the widening internal political divide in America and the internal social focus of many, is Joe Biden ready for his first major geopolitical test if things get really "hot" in the Southeast Asian region? A few things to ponder first:
Is the U.S. military more worried about being "woke" or fighting the threats to the U.S., purging those that would disagree – see here?
Is Joe's health up to the stress of a major geopolitical event? See here – Biden's cognitive problems with aging dementia.
Does Joe Biden have too many conflicts of interest with China that may affect his judgment – see here?
If something should happen to Joe, would Vice President Kamala Harris be able to handle a geopolitical situation with China, along with the ethnically driven conflict in Myanmar – in a "woke" manner? What foreign policy experience does she have?
Will America live up to the commitments to militarily backstop Japan, Taiwan, South Korea, the Philippines, and other partners in the region?
Many foreign policy experts feel that there is not much for the U.S. to do in Myanmar. They feel that Myanmar does not impinge on vital U.S. interests or require dramatic action. Besides, the U.S. has little leverage over Myanmar. U.S. trade with Myanmar amounted to roughly $1.4 billion, but Myanmar's annual trade with China is more than 10 times that (about $17 billion in 2019). But this assumes that the Myanmar situation stays contained.
Is America and its Allies asleep to this potential Chinese threat?
There is no question that the U.S. is still the only superpower left in the world that can act as a check on China's aggression. Its potential military strength is unparalleled. The real question is, does America and its Allies have the resolve. A few years ago, the answer would have been yes. Today, one can not be so sure. The players in the region very well may be wondering the same thing.
 RWR original article syndication source.