Kauai Real Estate In Total Frenzy As Buyers Snap Up Multi-Million Dollar Homes Sight-Unseen
Real estate on the no-longer sleepy island of Kauai has gotten so hot that people are buying multi-million dollar homes sight-unseen, as the pandemic-fueled housing boom continues seemingly unabated.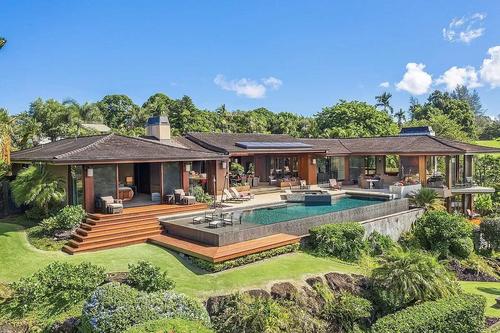 According to the Wall Street Journal, luxury properties on Kauai – with a population of 72,000 permanent residents – start at $3 million, while just 3% of the island's 550 square miles are open to development, meaning that housing stock in all categories is scarce. And according to the report, Californians looking for primary and secondary homes are squeezing prices even higher.
Ms. Cook, 46, a former commercial real-estate broker, and her husband, 51, a lawyer, had considered looking for a new home in the suburbs north of San Francisco, but were reluctant to test their luck in a seller's market, where all-cash deals and multiple bidders had become the rule.

"I looked at him," says Ms. Cook, "And I said, 'OK, great, when are we leaving?' "

The Cooks made an offer of $1.8 million, sight unseen, on a furnished three-bedroom, three-bathroom bungalow located on Kauai's North Shore, which is known for its verdant mountains and beautiful beaches. The 2,200-square-foot house, with a great room that opens to the outdoors, is on a ¼-acre lot that is a five-minute drive from the ocean. The couple and their two boys, now 4 and 5 years old, moved in time for Thanksgiving. -WSJ
Kauai, once a sleepy and very rainy destination, has become the state's prime destination for luxury-minded homeowners – with Mark Zuckerberg and wife Priscilla Chan having snapped up 1,400 contiguous acres – including approximately 600 acres just purchased in March, according to a family spokesman.
Matthew G. Beall, CEO of Hawai'i Life real-estate, says the island's residential sales above $3 million went from 23 in 2019 to 38 last year, and that 2020's top sale on the island (and all of Hawaii in fact), was a 1.7 acre waterfront compound on Hanelai Bay on the North Shore of Kauai.
The home has eight bedrooms and 10 bathrooms spread across three structures. It sold for $36.7 million last April in an all-cash deal to an undisclosed buyer. The agent on the sale, Neal Normal of Hawai'i Life's luxury platform, says that more buyers are making pandemic-era offers without a viewing. Last year, he said that of the 30 or so residential sales he handled with an average price of around $10 million, six were sold sight unseen. In his previous 30 years as an agent, just one listing was bought without a viewing.
Despite some 80 inches of rain per year (and 360 inches at the center of the island at Mount Awialeale – over 5,000 feet above sea level), Kauai's North Shore has become the island nation's most expensive market, according to the Big Island's Rebecca Keliihoomalu – VP of Corcoran Pacific Properties.
Last year, there were six residential sales on the island north of $10 million, compared to just two in the Wailea-Makena area of southwest Maui, and three above Honolulu.
That said, buying properties on Kauai is not without risks.
"Every year we have two or three floods," said Kauai landscaper Brandon Miranda, a third-generation islander, whose home-care and landscaping business looks after high-end estates for second-home owners.
"Everyone wants to be on the beach," says Miranda. "But this is a tropical environment and all that moisture causes problems," which affect everything from electrical outlets to AC units – on top of the flooding.
This spring, Kauai and other islands were hit by torrential rains and isolated flooding. A resulting mud slide has impeded access to Hanalei. Mr. Miranda says local Hanalei owners can expect problems for months to come.

What Mr. Miranda calls super-high-maintenance homes sit on what Hawai'i Life's Mr. Beall calls "one of the most incredibly beautiful places on the planet." -WSJ
Just months ago, one Hanalei oceanfront five-bedroom house sitting on 1.11 acres went on the market for an asking price of $24.75 million.
Another home on the market belongs to Canadian entrepreneur Brent Naylor, 75, and his wife Gayle, 74. They bought an empty 4/5 of an acre lot perched above Hanelai for $1.6 million, then proceeded to spend around $18 million to construct an 8,200 sqft four-bedroom house, which includes an outdoor kitchen and a 1,200 sqft master suite with a fireplace and private terrace.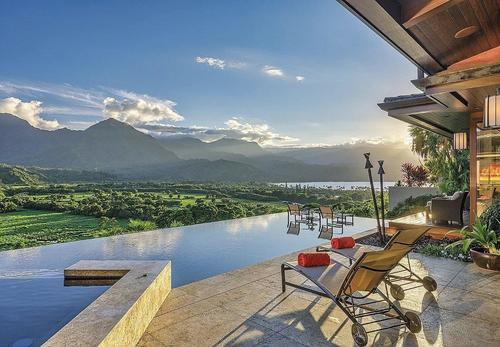 It's been listed for sale for over 200 days at $22.75 million – so perhaps even Hawaii's hottest market has limits.
Tyler Durden
Sat, 05/08/2021 – 23:30