McDonald's, Amazon Hike Wages To Lure More Workers Back To Labor Market
Update (0905ET): After Jeff Bezos vowed to remake Amazon into a more worker-friendly tech behemoth in his final letter to shareholders before stepping down as CEO, it looks the company has announced yet another wage hike: Amazon will start new employees off at $17/hour with signing bonuses of up to $1,000 as the company seeks to hire some 75K people.
AMAZON:AVG STARTING PAY OVER $17/HR, SIGN-ON BONUS UP TO $1,000
AMAZON HIRING 75,000 PEOPLE IN FULFILLMENT & LOGISTICS NETWORK
AMAZON HIRING 75,000 EMPLOYEES ACROSS FULFILLMENT AND TRANSPORTATION, WITH AVERAGE STARTING PAY OF OVER $17 PER HOUR AND SIGN-ON BONUSES OF UP TO $1,000
* * *
McDonald's restaurants across the country have become so desperate to recruit workers, that some restaurants have resorted to unconventional methods just to get potential workers in the door, like promising $50 to candidates who show up for an interview. Now, after last week's abysmal jobs report virtually confirmed that overly generous unemployment benefits are keeping low-wage workers out of the labor market, McDonald's is acquiescing and announcing that it will raise wages at its restaurants. However, after the hike, non-managerial employees would still only earn on average $12/hour.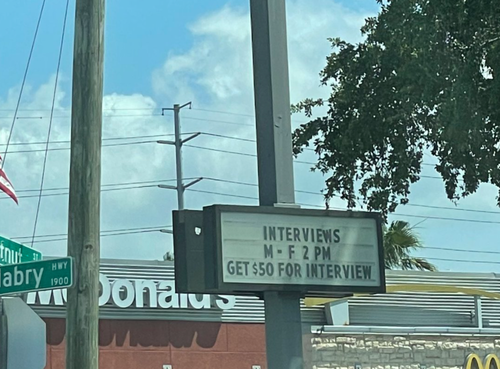 Although most of the company's restaurants are owned by franchisees (around 95% of 13,900 US restaurants are owned by franchisees), McDonald's said Thursday that it would raise pay for employees at company-owned restaurants in the US. The company said it expects the average wage at the restaurants it owns to reach $15 an hour by 2024. McDonald's said it wants to hire 10,000 employees in the next three months as it reopens more dining rooms, WSJ reports.
The burger giant said Thursday it would increase wages for more than 36,500 hourly workers by an average of 10% over the next several months. Nonmanagerial workers at the chain's roughly 660 company-owned restaurants in the U.S. would earn at least $11 to $17 an hour at entry levels after the increases, McDonald's said. Supervisors would earn an hourly minimum of $15 to $20. Nonmanagerial employees at company-owned stores earlier this year earned an average of nearly $12 an hour, McDonald's said, and supervisors earned some $16 to $18 an hour.
Meanwhile, an organization representing franchisees hinted that wage hikes could be coming more broadly, as owners now have more flexibility to raise menu prices to offset wage hikes.
The National Owners Association, a group representing U.S. franchisees, said in an email to its members on Sunday that strong sales should allow operators to raise menu prices if they choose to compensate for higher spending on pay and benefits.

"We need to do whatever it takes to staff our restaurants and then charge for it," the association said.
After the April payrolls print, the NOA sent a letter to its members warning them that ""when higher wages, signing bonuses, paid interviews no longer work, we have a problem" and advising that price hikes on low-margin items like the Big Mac might be necessary.
McDonald's has been a target of labor activists and the "fight for $15" which data show have helped contribute to increased used of automation (at McDonald's order kiosks have been introduced in thousands of restaurants across the US) which lessens the need for employees. We recently reported that McDonald's workers were planning strikes to try and force the company to hike wages. Whether the threat of labor activism played into the company's decision to hike wages isn't clear.
But if you ask President Joe BIden or Press Secretary Jen Psaki whether expanded unemployment benefits, which some states have now elected to end, whether the benefits are keeping workers out of the labor force, they will at first deny it, then blame corporations like McDonald's for failing to offer "livable, working wage" jobs.
Peter Doocy battles Jen Psaki over whether the Biden administration's massive unemployment benefits is disincentivizing people from wanting to return to work.

Psaki disagrees, citing the lack of "livable, working wage" in jobs, schools being closed, and expensive child care. pic.twitter.com/vOEomgMwC9

— Curtis Houck (@CurtisHouck) May 10, 2021
Pretty soon, they will respond with more heavily automated "digital-only" locations.
Tyler Durden
Thu, 05/13/2021 – 09:10