Facebook Whistleblowers Reveal Campaign To Censor Vaccine Hesitancy
Whistleblower organization Project Veritas has obtained internal documents from Facebook insiders detailing the company's efforts to censor concerns over the COVID-19 vaccine.
BREAKING: @Facebook Whistleblowers Expose LEAKED INTERNAL DOCS Detailing New Effort to Secretly Censor Vaccine Concerns on a Global Scale#ExposeFacebook pic.twitter.com/8VBYQSdxlz

— veritastips@protonmail.com🇺🇸 (@EricSpracklen) May 25, 2021
Leaked company documents provided by two whistleblowers detail Facebook's plan to combat "vaccine hesitancy" (VH) worldwide via "comment demotion".
"They're trying to control this content before it even makes it onto your page before you even see it," one insider told Project Veritas. "If I lose my job, it's like, what do I do? But that's less of a concern to me."
The social media giant's goal is to "reduce user exposure" to those with VH, while also reducing the ability to engage with said posts.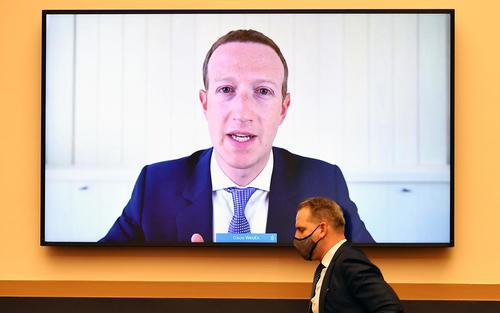 More from Mia Cathell via The Post Millennial:
One of the Facebook whistleblowers said the company uses a tier system to rank and determine how comments should be censored or buried. This is all based on how much the statements question or caution against the COVID-19 vaccination.
Tier 2, for instance, represents "Indirect Discouragement" of getting vaccinated. User comments such as these would be "suppressed," Project Veritas reported.
Comments that include "shocking stories" that describe what could be true events or facts that can raise safety concerns are demoted. Any of the such that raises concern about coronavirus vaccinations are fair game to be demoted and hidden, according to the source, despite authenticity or capacity to contribute to the public good. "I have to do something," one of the Facebook insiders said.
It doesn't matter if the comments are true, factual, or represent reality. The comment is demoted, buried, and hidden from public view if it clashes with the system. "It doesn't match the narrative," one source explained. "The narrative being, get the vaccine, the vaccine is good for you. Everyone should get it. And if you don't, you will be singled out."
One of the insiders, a data center technician, showed documentation detailing an algorithm test being run on 1.5 percent of Facebook and Instagram's almost 3.8 billion users worldwide. "They're trying to control this content before it even makes it onto your page before you even see it," one insider said.
Project Veritas uploaded the entire "Facebook Vaccine Hesitancy Comment Demotion" document and the entire "Facebook Global Operations Primer – Health Misinformation" document on the investigative news outlet's website.
A top Facebook spokesperson was reached about these documents and sent "a brief and broad" statement in reply to Project Veritas that "failed to address" the investigative outlet's biggest questions regarding transparency.
"I really wonder how Mark Zuckerberg will be able to defend this," stated Project Veritas founder James O'Keefe ahead of the press release Monday. "His own employees are coming to Project Veritas because they can't stand the wrongdoing they are witnessing at their workplace," he told Project Veritas followers.
A leaked Facebook conference call from July 2020 caught CEO Mark Zuckerberg violating the tech giant's own rules, stating that he didn't understand the long-term effects of "modifying people's DNA and RNA," in reference to the COVID-19 vaccine. The footage was published in February of this year, juxtaposing Facebook's policy to remove material that "claims that the COVID-19 vaccine changes people's DNA" with Zuckerberg's alleged violation.
Facebook's vice president for Global Affairs and Communications was seen on video in February fleeing from a Project Veritas journalist over a previous statement he had made. The former Liberal Democrats party leader Nick Clegg had argued on-camera at the time that Facebook has "too much power."
Tyler Durden
Tue, 05/25/2021 – 09:15