From time to time, the topic comes up about the rights of indigenous people. Various areas and peoples of the world like the Aboriginals of Australia, natives of North America, Africa, Asia, South America, and let's even get started in the Middle East all have issues concerning indigenous people's rights. Should groups of people receive special rights, legal protections, and compensation based upon ancestral heritage and/or length of time in a geographical area?
Evo Morales Ayma, the then President of Bolivia, at a special UN General Assembly meeting, told the people of the world that "indigenous people's rights are the moral compass of humanity."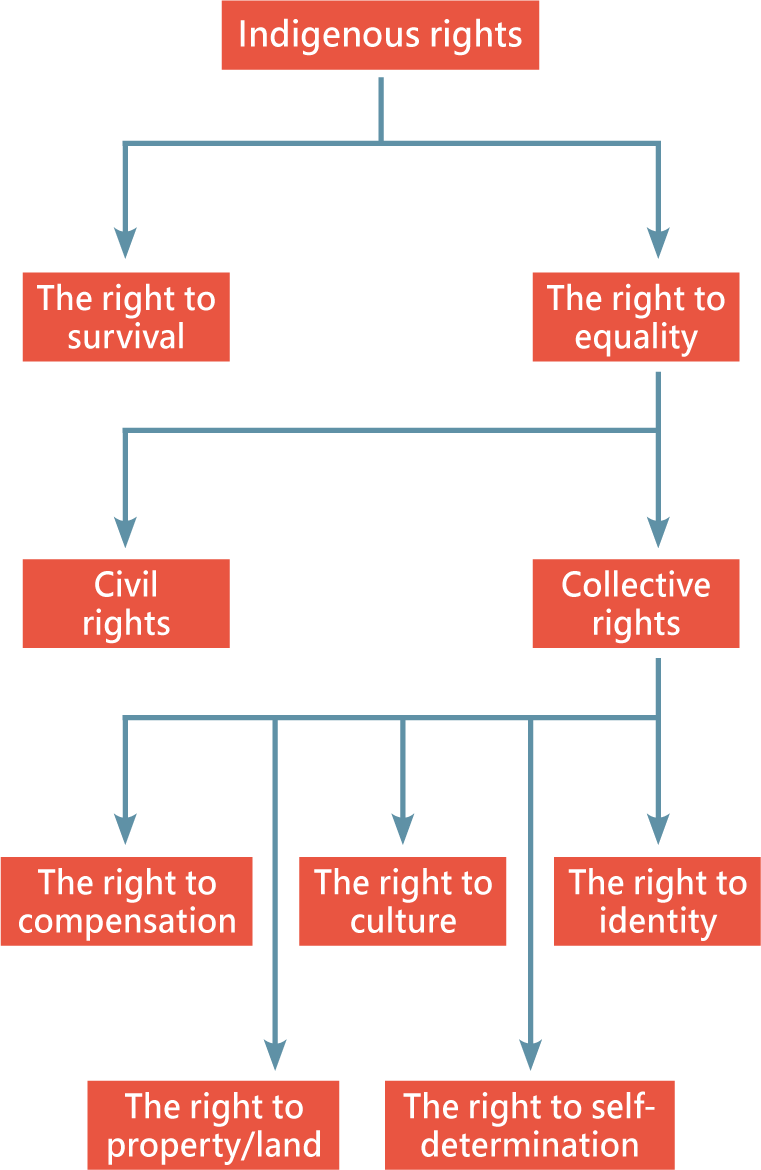 The United Nations Declaration on the Rights of Indigenous Peoples (UNDRIP) was adopted by the General Assembly on Thursday, 13 September 2007, by a majority of 144 states in favor, 4 votes against (Australia, Canada, New Zealand, and the United States) and 11 abstentions (Azerbaijan, Bangladesh, Bhutan, Burundi, Colombia, Georgia, Kenya, Nigeria, Russian Federation, Samoa, and Ukraine). Click here to view the voting record. Years later, the four countries that voted against have reversed their position and now support the UN Declaration.
Following the 2007 United Nations Declaration on the Rights of Indigenous Peoples (UNDRIP), here we divide indigenous rights into two major categories: the right to survival and the right to equality.  The right to survival, or the right to life, concerns the guarantee of basic survival of indigenous peoples, while the right to equality deals with the active promotion of their basic rights, which can be further classified into civil rights and collective rights.
The former is concerned with protecting individuals from discrimination, while the latter takes care of various rights that concern indigenous people as a whole, including their rights to identity, self-determination, culture, property/land, and compensation – see inset chart for a high-level view of these rights.
When two people are born into the world simultaneously and discover their heritage is different, they may receive different treatment through no fault of their own – negative or positive treatment. We are not talking of individual family inheritance but rather group rights due to birth. Most people agree that specific negative treatment of groups should be eliminated. The sticky point comes when indigenous people seek special rights and ask for group compensation from the other groups.
Indigenous people will say, you owe it to me because of who my ancestry was and the historical events that occurred to us – even if today, we are not negatively affected by the historical events. The non-indigenous people will say, I had nothing to do with history. Why am I being asked to pay and succeed any unequal rights? Other arguments arise on:
the identification of the indigenous people due to inter-marrying,
past agreements made that inevitable change over time, and
whether either group is still benefiting or not benefiting from historical events and whether any equity solutions are due.
This further complicates the issue and will undoubtedly generate resentment from both sides of the argument.
Everyone has a source to their own moral compass. Since nearly 65% of people in America profess to be Christian and Christianity is the dominant religion globally, it might be interesting to look at Biblical references that might shed some light on this part of the moral compass. Please note this is just one look. You may have another. Here are a few points to consider:
God owns the world – see 21 references to this here. So ALL you humans get off his land and go back to where you came from … 😉
Romans 4:13: "… Abraham and his offspring received the promise that he would be heir of the world …" Ahhh … the importance in religion and historical references to Abrahamic religions. If one is not in an Abrahamic religion does this mean you are out of luck? Perhaps a reason many attack Christianity?
Revelation 7:9: " … behold, a great multitude that no one could number, from every nation, from all tribes and peoples and languages, standing before the throne …" This is an indication that God does not see the groupings of people as we mere humans see it.
Then there is this idea that I was here first, so my voice counts more than yours. Matthew 19:30: "But many who are first will be last, and many who are last will be first." This is exemplified in the Parable of the Vineyard. Does this mean that those who are first in this life will be last in his kingdom? Every time the phrase "last shall be first and the first last" occurs in Biblical scripture; it refers to the fact that one's position (or grouping of people) in life does not give a person an advantage.
Perhaps you are Atheist or non-Christian, and all this is nonsense to you. Perhaps you may even want to launch a "Holy War" against this moral compass. Nevertheless, it is a belief system that many of your fellow humans believe. Should the Christian God outsource this part of the moral compass to the UN? This difficult moral dilemma no doubt continues.
Surprise? If you are on the receiving end of indigenous people's rights, very often, you are for them. If you are fortunate or unfortunate not to be born into these group rights, you may be against them. What is your view on indigenous people's rights? Please comment below.
 RWR original article syndication source.