Pour une traduction Google en français – cliquez ici.
Euronews reported that tens of thousands took to the streets throughout France on Saturday to protest against the new coronavirus rules announced by the government earlier this week. They further reported that only an estimated 1,500 people were demonstrating in the French capital. In the southern cities of Montpellier and Marseille, authorities counted respectively 5,000 and 4,250 protesters.
I suspect this has been grossly underestimated from what this reporter has seen in just my small town. Perhaps this is the story governments want to tell you. Even this video below shows this reality from the French capital.
In Paris, one demonstrator's blouse read "No to compulsory vaccination, freedom violated!" while another's placard said: "Macron, no to the health dictatorship." In Marseille, protesters held a banner depicting faces of politicians, including French President Emmanuel Macron with Hitler's mustache.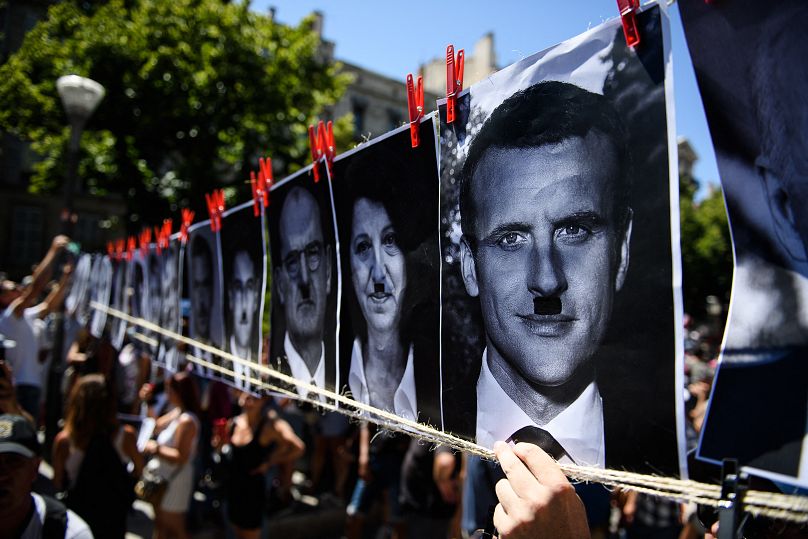 The report from the ground:
This reporter saw about 4,000 to 5,000 protesters in a medium-sized town of about 100,000 population in the south of France. I interviewed about 10 to 15 folks to get a feel of what the average protester was thinking. See the video below of a small portion of the protests. It was peaceful, and no violence or vandalism was seen. It was interesting to see the creative signs made.
One could detect that these protests were different compared to typically CGT union protests and the Yellow Vest protest of before – I have witnessed both. The energy level was much higher and the issues discussed were more clear. One could feel the passion in their chants – people understood well that their liberties were soon to be taken.
Speaking to a group of nurses from the local hospital – they all were prepared to refuse the vaccine and lose their jobs. They indicated that about 20% of the hospital staff would quit. The hospital would obviously not be able to function if these people would be fired and be forced from their positions.
The make-up of the protestors was the typical middle class of France. I wonder if many of them were also part of the previous Yellow Vest movement. Surprisingly not. I would estimate only about 10 to 20% were also part of the Yellow Vest movement. However, speaking to the few Yellow Vest protestors that were in the crowd, they indicated that they would join soon in numbers the anti-mandatory vaccine protests – though primarily for their disgust of Macron. In terms of diversity – the group was visibly more diverse than previous Yellow Vest protests. The mandatory vaccine issues cuts across all diversities.
The protests lasted about two to three hours. However, as the evening came, one could see various groups break apart, and some of the youth join the protests and started to become a bit rambunctious – firecrackers and graffiti. For the most part, the police presence was light, though a bit of a cat and mouse game started with the more rambunctious youth protestors. In some of the larger cities in France, this was not the case – vandalism.
What are the protests about?
Read here about the draconian measures French President Emmanuel Macron plans for the French people concerning mandatory vaccine passports. France being ground zero of these new laws, but France is not alone. All over Europe and starting in the U.S., these new laws seem to be the plan going forward to control Covid and populations. Specifically, in France, the key issues are:
Compulsory vaccines for healthcare workers – or be fired.
The Pass Sanitaire (vaccine passport) will be required for entry to venues including cinemas, restaurants, cafés, bars, nursing homes, and for long-distance train and bus travel. For violators, up to 10,000 Euro fines and six months in jail. For violating restaurants, 45,000 Euros and one year in jail.
On the ground, when asking many of the protestors – will you go to restaurants starting in August and face these penalties? A "deer in the headlights" question, most could not respond. However, few said it would cause them to run out and get the vaccine. With so many non-vaccinated in France, one wonders what this will do to the already bad economy in France if Macron goes forward with his plan.
One can not be sure who is organizing the mandatory vaccine protests in France, but here is a text that has been shared widely and seems to be a true view of all the protests going on this July 17, 2021.
⚠️⚠️⚠️🧨🧨PARTAGEZ SVP🧨🧨⚠️⚠️⚠️
MANIFESTATION CONTRE LE PASS SANITAIRE
CONTRE LA VACCINATION OBLIGATOIRE DES SOIGNANTS
⚠️⚠️⚠️🧨🧨PARTAGEZ SVP🧨🧨⚠️⚠️⚠️
➡️➡️➡️ SAMEDI ⬅️⬅️⬅️
⚠️AIX EN PROVENCE : 10 H – Rotonde
⚠️AGEN : 14 H – Quai du Gravier
⚠️ANNECY : 14 H – Paquier
⚠️ALENCON : 14 H – Halle aux Blés
⚠️ANTIBES : 10 H 30 – Rond point de Provence
⚠️AUBENAS : 14 H – Place du chateaux
⚠️AURILLAC : 17 H – Place mairie
⚠️BAR LE DUC : 14 H – Mairie
⚠️BELFORT : 16 H – Kiosque place d'Arme
⚠️BESANCON : 14 H – Place de la révolution
⚠️BORDEAUX : 14 H – Place de la bourse
⚠️BOUGUENAIS : 10 H 30 – Rond point de Grand Lieu direction aéroport
⚠️BOURG-En-Bresse : 16 H – Place Seraucourt
⚠️BREST : 14 H – Place de Strasbourg
⚠️CAEN : 14 H – Mairie
⚠️CALAIS : 13 H – Théâtre
⚠️CAYENNE (GUYANE) : 8 H – Préfecture
⚠️CHAMBÉRY : 13 H – Palais de justice
⚠️CHAUMONT : 14 H – Mairie
⚠️CHERBOURG : 14 H – Place du général de Gaulle
⚠️CHARLEVILLE-MEZIERES : 14 H – Hôtel de ville
⚠️CLERMONT FERRAND : 12 H – Place de Jaude
⚠️COLMAR : 14 H – Mairie
⚠️COULOMMIERS : 14 H – Rond point de l'Europe
⚠️DIGNE LES BAINS : 14 H – Place général de Gaulle
⚠️DUNKERQUE : 10 H – Place Jean Bart
⚠️EPINAL : 14 H – Prefecture
⚠️FIGEAC : 10 H – Rond point des Carmes
⚠️FORT DE FRANCE (MARTRINIQUE) : 9 H – Préfecture
⚠️GRAMAT : 9 H – Rond point des Écoles
⚠️GRENOBLE : 14 H – Place Victor Hugo
⚠️HENDAYE : 14 H – LIDL
⚠️LA CIOTAT – 14 H – Vieux Port
⚠️LA ROCHELLE : 13 H – Aquarium
⚠️LAMBALLE : 11 H – Gare (Boulevard Jobert)
⚠️LANESTER : 9 H 30 – Rond point des Lann-Sevelin
⚠️LANGRES : 14 H – Mairie
⚠️LE MANS : 14 H 30 – Parc des expositions
⚠️LE PUY : 14 H Place du Breuil
⚠️LILLE : 12 H – Place de la République
⚠️LIMOGES : 14 H – Place Jourdan
⚠️LYON : A VENIR
⚠️MANOSQUE : 10 H – Rond Point Hyper U
⚠️MARSEILLE : 14 H – Vieux Port
⚠️MELUN : 14 H – Préfecture
⚠️METZ : 14 H – Place D'Arme & Place République
⚠️MORLAIX : 10 H – Marché
⚠️MONTPELLIER : 14 H – Place de la comédie
⚠️MULHOUSE : 14 H – Place de la réunion
⚠️NANCY : 14 H – Place Maginot
⚠️NANTES : 14 H – Croisée des Trams
⚠️NARBONNE : 14 H – Place de l'hôtel de ville
⚠️NICE : 14 H – Place Garibaldi
⚠️NIORT : 11 H – Rond point de Bessines
⚠️NIMES : 14 H – Préfecture
⚠️🧨PARIS : 14 H – Place du Palais Royal
⚠️PAU : 10 H – Place de Verdun
⚠️PERPIGNAN : 9 H – Hopital
⚠️PERPIGNAN : 10 H – Préfecture
⚠️PERPIGNAN : 14 H – Hopital
⚠️PERIGUEUX : 10 H – Palais de justice
⚠️POINT A PITRE : 10 H – CHU
⚠️POITIERS : 14 H – Mairie
⚠️REIMS : 14 H – Hôtel de ville
⚠️RENNES : 14 H – Place de la République
⚠️ROUEN : 14 H – Hôtel de ville
⚠️SADILLAC / BERGERAC : 15 H – Ferme de la Coutaude
⚠️SAINT BRIEUC : 14 H – Place du Guesclin défilé vers préfecture
⚠️SAINT DIZIER : 14 H – Mairie
⚠️SAMANTAN 32 : 10 H – Rond point Inter
⚠️STENAY : 9 H – Rond point du commerce
⚠️ST ETIENNE : 15 H – Place Jean Jaurès
⚠️STRASBOURG : 10 H – Cathédrale Notre-Dame
⚠️TARBES : 14 H – Mairie
⚠️TERRASSON VILLE DIEU : 14 H – Rond point McDo
⚠️THONON LES BAINS : 14 H – Sous préfecture & Place des Arts
⚠️TOULON : 14 H – Place de la liberté
⚠️TOULOUSE : 14 H – Jean Jaurès (Métro)
⚠️TOURS : 14 H – Place Jean Jaurès
⚠️VALENCE : 12 H – Préfecture
⚠️VALLON PONT D'ARC : 14 H – Mairie
⚠️VANNES : 14 H – Esplanade du port
⚠️VESCOVATO : 13 H – Rond point d'arena
⚠️VICHY : 10 H – Mairie
⚠️VILLEFRANCHE SUR SAONE : 11 H – Mairie
⚠️VIRIAT : 10 H – La neuve
⚠️VOIRON : 14 H – Place St Bruno
Many of the protesters I spoke with vowed to return for further future protests. Much like during the Yellow Vest protests before Covid19, typically they had organized weekly Saturday protests. Once the situation gets real and starting in August, when the typical French gets their liberties taken away, these protests could intensify. French love going to their cafes and restaurants – what happens when they can't?
Furthermore, if there is any truth to many of the issues concerning Covid19 vaccines (see here one shocking report, and here), the anger will reach a fever pitch – many of the French are fully aware of the potential dangers of Covid vaccines.
I will continue to provide updates while in France as a reporter for the Right Wire Report.
Where this goes, no one knows.
 RWR original article syndication source.