"Fewer than a quarter of unvaccinated Asian, Black, and Latino adult men felt comfortable getting the vaccine in a hospital and fewer than 19% were willing to get it at a public vaccination site."
The mayor of Kansas City, Missouri, said Sunday his city is looking to boost its coronavirus vaccination rate by diminishing vaccine hesitancy among young men of minority ethnicities.
Mayor Quinton Lucas described Kansas City's failure to surpass a threshold of 40% of residents getting vaccinated as "painfully low," in an interview on CBS' "Face the Nation."
"Young men of color is a place where we have incredible weakness right now. That's why we're not only being as creative as possible in how we reach out through traditional media but also concerts," Mr. Lucas said. "We'll be appearing and giving away tickets at hip hop concerts, country music concerts, any number of things that say to people that the vaccine is around, the vaccine is safe, and it's important for you to take."
When Operation Warp Speed was underway, most prominent Democrat leaders paraded in front of TV cameras telling the American people how they will never trust the vaccine developed under Donald Trump (apparently, in his basement).  However, since alleged President Biden assumed office and set the "new and improved" vaccination goals, the Democrats changed their tune.  Now, the vaccine was completely safe, and in fact, mandatory.  If you even dared to question it, you were a pariah, and if you refused to take it, you were "killing people."   According to the mainstream media, conservative networks like FOX  are "causing people to die" by promoting "vaccine hesitancy."
The latest propaganda slogan is: "The pandemic of the unvaccinated."
The media blaming Republicans for resisting the vaccination effort, however, does not hold water.  Every prominent Republican leader has made public statements about the benefits of taking a Covid vaccine.
Here is Donald Trump telling people to take the vaccine.
Here is Ron DeSantis telling people to take the vaccine.
Here is Sean Hannity telling people to take the vaccine.
Here is  Alabama Republican Governor Kay Ivey telling people to take the vaccine.
No prominent Republican has advocated against taking a Covid vaccine.  Many conservatives actively advocated against Covid vaccine mandates, and continue to do so, because it should be every American's right to make decisions regarding their own health care – something the liberals only favor when it comes to abortion (which does not fit the definition of "health care").
A new Kaiser poll found that 61 percent of the unvaccinated are not Republicans and not Trump supporters. Vaccine hesitancy is clearly most prevalent in minority populations and may have nothing to do with ideology.
There is after all another side to the COVID Vaccine debate:
There is only anecdotal evidence that most unvaccinated people are conservative.  It is based on "recent polls" – and we all know how accurate polls are.  Here are the real vaccine statistics are broken down by race and ethnicity.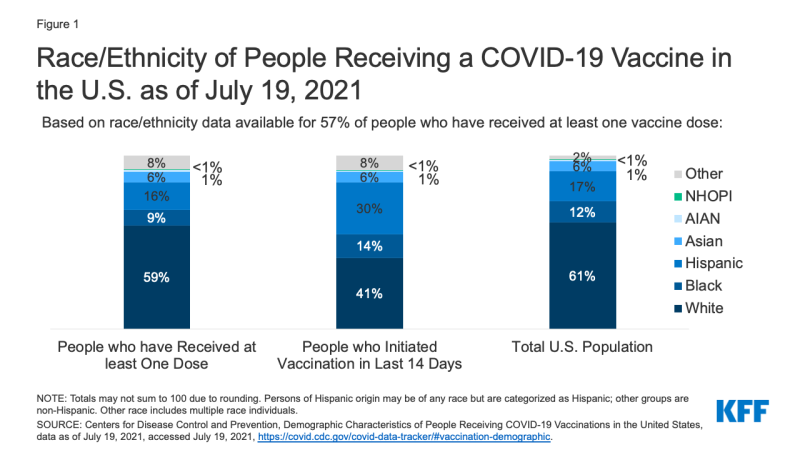 The CDC reports demographic characteristics, including race/ethnicity, of people receiving COVID-19 vaccinations at the national level. As of July 19, 2021, CDC reported that race/ethnicity was known for 58% of people who had received at least one dose of the vaccine. Among this group, nearly two thirds were White (59%), 9% were Black, 16% were Hispanic, 6% were Asian, 1% were American Indian or Alaska Native, and <1% were Native Hawaiian or Other Pacific Islander, while 8% reported multiple or other race.
Overall, across these 40 states, the percent of White people who have received at least one COVID-19 vaccine dose (48%) was roughly 1.3 times higher than the rate for Black people (36%) and 1.2 times higher than the rate for Hispanic people (41%) as of July 19, 2021.
Overall, the black population remains the highest unvaccinated group in the country. So unless young black men are massively tuning in to watch "the world's biggest racist" (not!)Tucker Carlson's show, the media is selling us another lie.
 RWR original article syndication source.