I have a story to tell. But will you listen?
During the winter of 2020, I flew from the United States with my parents to Lucknow, Uttar Pradesh, in India. The purpose of our visit was to return to the place I had known as a young child and complete the important mission of relocating my grandparents back with us to the United States all within a month. The trip was unfolding without a hitch, and the area was just like I had remembered it-vibrant and full of life.
Before our arrival, the Indian government had just completed a vaccine campaign resulting in millions of people receiving jabs, so confidence levels were high, evidenced by the reopening society. Unfortunately, my travel plans were obliterated by a personal family tragedy that required me to remain in India months longer than anticipated. During this dark time in my life, the entirety of India was visited by a catastrophe of its own, as the Delta variant of the coronavirus swept across the country like a firestorm.
In what seemed to transpire in an instant, thousands that began falling very ill from the Delta Variant turned into millions accompanied by mounting deaths. All around me, thousands of people perished every day as Delta rampaged through the city. India became the global headline story and claimed the horrific title of becoming the most Covid affected country to date. Surreal does not begin to describe it.
The timeline matters here. Our family chose to travel to India because the country had already experienced lockdowns and restrictions earlier in 2020 and declared victory over the virus – all that changed in April 2021. During the 2020 lockdowns, Indians observed other countries struggling with pandemic hardships. Subsequently, a second wave in the form of the Delta variant crashed over India and sent cases spiraling out of control. Deaths were so numerous that bodies were dumped into rivers amid increasing fear and panic gripping the nation. For many Indians, this was the first time they came face to face with Covid.
Time was a blur of chaos, confusion, and increasing sickness that dramatically changed the course of many lives, and mine. The Delta Variant would leave almost no one untouched. Despite the recent vaccination rollouts – India was now under siege from the pathogen.
April 5, 2021, is a day I will never forget when I awoke and realized I'd lost all sense of taste and smell. Food was utterly bland, and the environment around me was devoid of scent. A positive test confirmed that coronavirus had darkened my doorway, delivering a fever cresting 102 degrees, a runny nose, and blood oxygen levels that dipped to 89. The doctor who treated me during my battle with covid was also a relative to whom I'm grateful for his guidance. He advised that it would be safer to remain at home because the hospitals were near collapse from the recent magnitude of covid patients arriving daily.
My family physician gave me strict protocols to follow and prescribed readily available medications that the pharmacy delivered to my doorstep. The life saving 14-day protocol consisted of antipyretic medications around the clock to break the fever and four pharmacological big guns so to speak :
Ivermectin (Anti-parasitic)
Doxycycline-  (Antibiotic)
Azithromycin- (antibiotic)
Hydroxychloroquine (Immunosuppressive drug and Anti-parasitic)
The initial grip of the variant had me battling high fevers and difficulty getting full air exchange. I was instructed to lay chest-down with one pillow beneath my pelvis and another near the neck. Within one day, I could breathe better as my oxygen levels gradually rose from a low of 89 to a healthy 97.  My symptoms improved steadily from that point on. Yes, it took time to fully get my stamina back as it does in most influenza illnesses, but I did recover. During my illness, I remained separated within my home structure from my aging grandparents out of fear I would infect them. Often, there was daily news of those on our street falling gravely ill, being hospitalized, and even passing away. It was an excruciating, emotionally isolating time filled with great fear and anxiety for all.
Thankfully, millions of Indians and I had doctors that followed the Indian Government's recommendation to prescribe those four therapeutics that I regard as "wonder pills." I later learned that the states of Tamil Nadu and Kerala in southern India ignored the Indian Government and followed the World Health Organization (WHO) 's advisory not to use Ivermectin, and the results were catastrophic.
The Indian Bar Association is threatening criminal prosecution of WHO Chief Scientist Dr. Soumya Swaminathan "for each death" caused by her misleading tweet against the use of Ivermectin. Her statements prompted the State of Tamil Nadu to withdraw Ivermectin from the protocol on May 11, 2021, just a day after the Tamil Nadu government recommended using Ivermectin COVID-19 patients. The brief accused Swaminathan of misconduct by using her position as a health authority to further the agenda of special interests to maintain an Emergency Use Authorization (EUA )for the lucrative vaccine industry.
In the areas of Delhi, Uttar Pradesh, Uttarakhand, and Goa, where Ivermectin was part of the treatment protocol, cases dropped by 98%, 97%, 94%, and 86%, respectively. In Tamil Nadu, where Ivermectin was removed from protocol, cases skyrocketed, and deaths increased ten-fold.
Sadly, millions died or suffered long-lasting effects from covid because of WHO Chief Scientist Dr. Soumya Swaminathan advising against the use of Ivermectin that thousands of doctors already knew was effective in mitigating the symptoms of Covid and preventing death. On a positive note, every state in India that followed the disastrous WHO advisory not to use Ivermectin reversed course and reinstated this "wonder pill" after seeing its use reduce the death rate in India's most populous state, Uttar Pradesh.
The media, who are invested in pumping out propaganda that supports the government's chosen policies, will obsessively focus on the tragic scenes of death that played out across India not so long ago. But they refuse to tell the whole story – the positive one about the effective therapeutics used to reverse the course of the virus and save lives. You will not hear a story about unvaccinated  Indians utilizing therapeutics and doing quite well mitigating the effects of this pandemic. Why not? Why not highlight the valuable and informative data about vaccination rates v. positivity rates or vaccination rates v. illness/death rates back in March, April, and May of 2021 before the Delta Variant hit? Why not report how drastically the death rates and infection rates plummeted in late May once most citizens had received Ivermectin both to treat and prevent contagion? Here is a good summary of the dramatic change introduction of the drug had on India's second wave.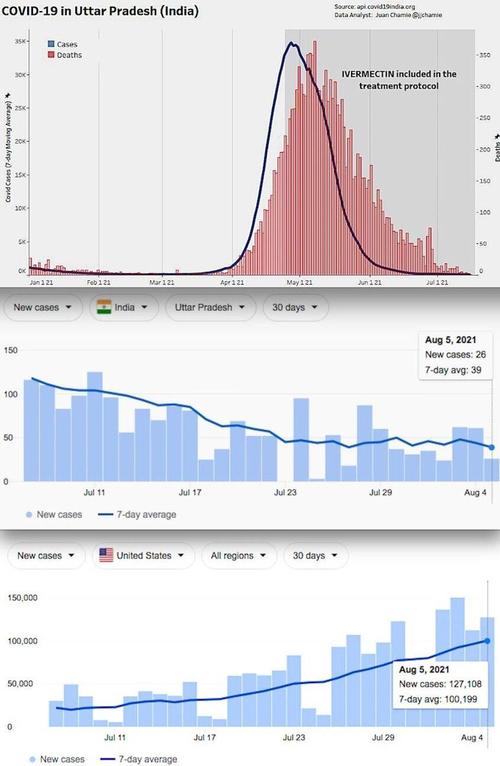 Here is a summary of over 60 studies worldwide on the effectiveness of Ivermectin in treating Covid.
Soon, I will be returning to the United States. I'm not an Indian by nationality, but as I write this article, it pains me that I could save my life in a foreign country by utilizing Ivermectin and Hydroxychloroquine whereas in my own country my fellow citizens are fighting to get access to these life-saving therapeutics. I am planning on packing both in high quantities as I fly back home fearful that Customs may confiscate them. Can you imagine how it feels to know the Biden/Harris authoritative government policies, the censorship, and the media propaganda are all threats to my safety?
Americans should have accurate information and full access through physicians to the therapeutics that have shown a positive impact on the prevention and course of Covid related illness. Nothing is 100% effective for every person – but no pharmacological intervention ever claims that degree of efficacy. This reality and politics should never stand in the way of delivering the best standard of quality of care and outcomes for all.
Ivermectin made a difference in India and should be in the COVID med box to be utilized everywhere.
Finally, I want to thank all of the citizens of India and the Government of Uttar Pradesh for saving an American life – mine.
The Right Wire Report is not a medical professional forum. Our goal is to report information and context for readers to then perform due diligence. Please consult your doctor for any medical advice.
 RWR original article syndication source.