Germany held its national election this past Sunday that will decide who succeeds Angela Merkel, its chancellor of 16 years. It is becoming the closest in a generation. It looks like Merkel's party is set to lose its majority, which could signal a change in Germany and for the rest of the world.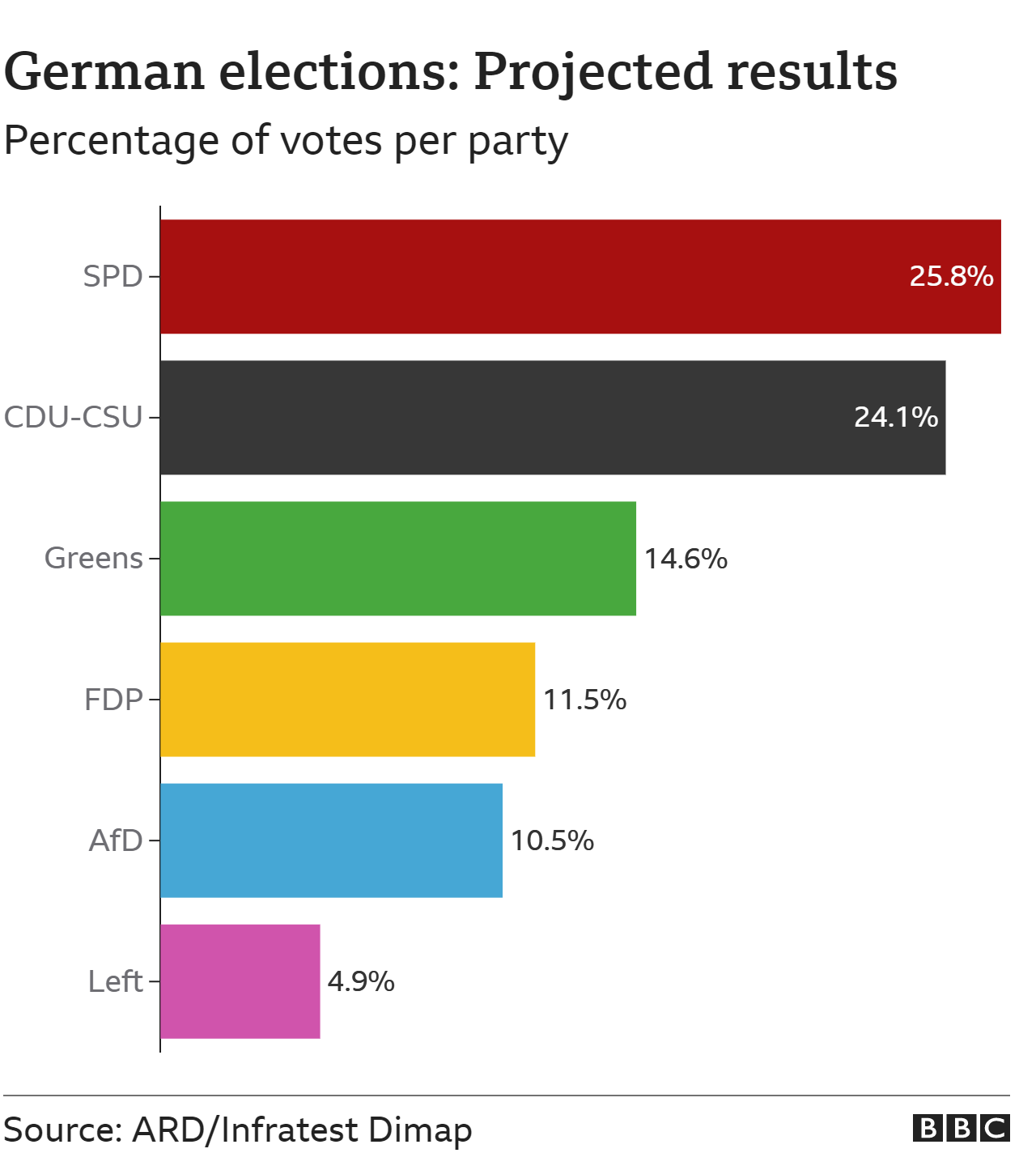 Germany's center-left Social Democrats (SPD) are edging towards election victory, as projected results look increasingly bleak for the party of outgoing Chancellor Angela Merkel. See here the latest in the inset charts. German is leaning left.
Floods on July 14 and 15 killed 180 people in Rhineland-Palatinate and North Rhine-Westphalia, and a total of 224 people across Germany and Belgium. Rivers suddenly burst their banks as two months of rain fell in just two days across northern Europe.
In response to the floods, Angela Merkel's cabinet approved 30 billion euros in aid but coming just two months before a general election that will see the end of her term, it was the reactions to these floods that put the leading party (CDU-CSU) under the microscope politically. In short, this event caused the German people to focus on what they believe was the cause of the floods – climate change.
For us not close to the various political parties in Germany, here is a brief view of each of the four major party's key policies they support.
CDU/CSU leader and candidate for chancellor, Armin Laschet © CDU leader and candidate for chancellor, Armin Laschet (the party of Angel Merkel)
No tax rises No change to the constitutional restriction on new borrowing, known as the 'debt brake.'
A swift return to balanced budgets.
Tax on corporate profits to be capped at 25%.
Gradual abolition of the 'Soli' — the solidarity surcharge on taxes introduced to pay for German reunification.
It now only applies to the top 10 percent of taxpayers.
SPD's candidate Olaf Scholz for chancellor
More new borrowing, but only within the framework of the debt brake.
Higher rate of income tax for top earners.
Maintain Soli for the 10% of top earners.
Reintroduce wealth tax, with a 1% tax on large assets.
Reform inheritance tax Introduce a financial transaction tax.
FDP leader Christian Lindner © FDP leader Christian Lindner
No change to debt brake.
Top rate of income tax should apply only to annual income above €90,000.
Abolish Soli No wealth tax or increase to inheritance tax.
Welfare spending capped at 50% of budget.
Corporate tax reduced to 25%.
Greens, Annalena Baerbock, candidate for chancellor
Debt brake to be relaxed to allow borrowing for investment.
Higher top rate of income tax Wealth tax of 1% on assets above €2m.
Massive investment offensive – totaling €50bn a year over the next decade – in areas such as fast.
Internet, renewable energy, and "climate-neutral infrastructure."
The AfD is a Eurosceptic party that many consider too far-right to be in any coalitions.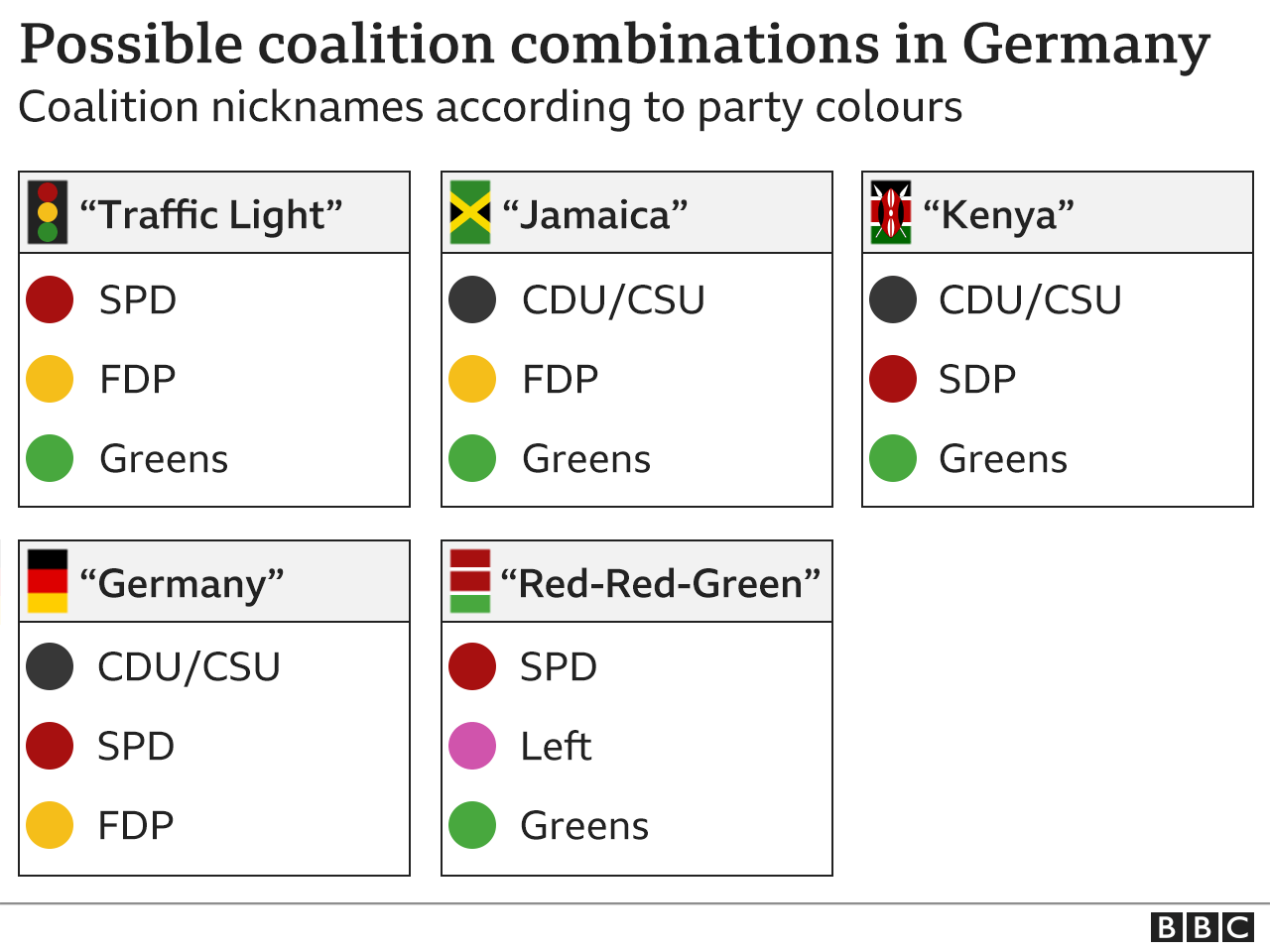 The path for a coalition to form a government as before is now not likely. It could be the first time that Germany is facing a potential three-way coalition. The country has entered a new political era and the talking has just begun.
Beyond the four mainstream parties, it was a bad night for the radical Left and a flat night for the far-right. See the inset chart to see the believed 5 possible coalitions that may be formed with their associated parties.
The key point to watch is to see if the CDU-CSU will be in the final coalition agreed upon. Will the SPD go it alone without the CDU-CSU? The FDP, Greens, and the Left get to become kingmakers if they want to and cut a deal. Germany leans left but could lean further left if the SPD goes it alone with the smaller parties.
Many outside of Germany may feel what Germans do, does not matter. But we need to remember that Europe is about 16% of global GDP, and Germany accounted for 28% of the euro area economy according to the International Monetary Fund (IMF). Germany is still the powerhouse of Europe.
Consider some key issues coming out of these German elections and thereby Europe that could affect the rest of the world that any new German government will need to deal with.
Global climate change initiatives will get new life. For Europe, more "green" initiatives could put an already difficult situation with European Natural Gas prices in jeopardy – and thereby the Euro economy as a whole. Is a winter of discontent coming for Europe?
The movement to the Left in a major economy in Europe puts the financial situation and the viability of Europe's behemoth social states at risk. Any faltering in the global economy may trigger even stronger Marxists' responses out of Europe.
Europe has been a petri dish of Covid responses to the rest of the world.  In general, Europe's Covid responses have been quite draconian. This approach may be exported even more than before.
Germany will most likely have a more fragile coalition government. When trouble comes, and it will, Germany may not have the political will to solve the issues. Europe becomes more fragile, even risking Euro unity.
Is the German election a trend that could extend to the French election in 2022? If so, haveing two major European states Left-leaning means Europe as a whole is leaning more Left, with all the risks associated with this political movement.
Right now, many are worried about political and financial contagion from China. Any European contagion could be worse for the rest of the world.
Burring our heads in the sand about issues that are happing on the global stage in the past has proven unwise. The German 2021 election fallout needs to be monitored, as it will affect the rest of the world.
If you found this article informative, please consider a small donation to our coffee cup to help support Conservative Journalism – or spread the word. Thank you.
 RWR original article syndication source.