US West Coast Under Tsunami Threat After Undersea Volcano Eruption In South Pacific
Update (1037ET): People waking up in San Diego have received a terrifying "emergency alert" on their phones warning them about a tsunami that may occur around 0750 PST. "Waves of 1 to 3 feet are possible," the alert said. Here's what one reader in Mission Beach sent us:
Across the West Coast of the United States, a tsunami advisory is in effect for Saturday morning. The advisories were issued after a massive undersea volcano erupted Saturday off the South Pacific island of Tonga.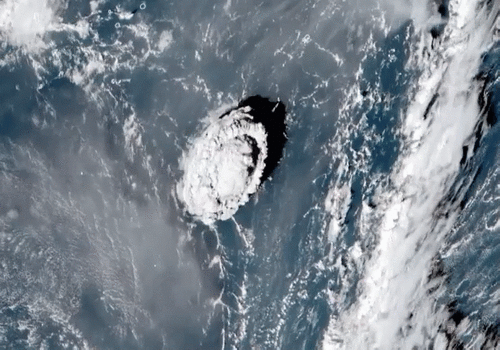 "A tsunami has been confirmed and some impacts are expected," the National Weather Service's National Tsunami Warning Center said early Saturday. The advisory covers: 
The California coast from the California-Mexico border to the Oregon-California border, including San Francisco Bay.
The Oregon coast from the Oregon-California border to the Oregon-Washington border, including the Columbia River estuary coast.
The outer coast of Washington state from the Oregon-Washington border to Slip Point, Columbia River estuary coast, and the Juan de Fuca Strait coast.
The north coast of British Columbia, and Haida Gwaii, the central coast and northeast Vancouver Island, the outer west coast of Vancouver Island, the Juan de Fuca Strait coast.
The inner and outer coast of Southeast Alaska from the BC-Alaska border to Cape Fairweather, Alaska.
South Alaska and the Alaska Peninsula: Pacific coasts from Cape Fairweather, Alaska, to Unimak Pass, Alaska.
Aleutian Islands: Unimak Pass, Alaska, to Attu, Alaska including the Pribilof Islands.
* * * 
An undersea volcanic eruption occurred 40 miles off the coast of the South Pacific country of Tonga on Saturday.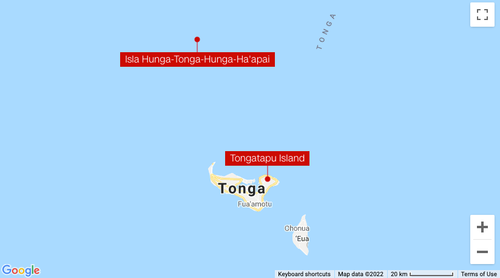 Satellite imagery shows the eruption unleashed a massive shockwave as a plume of ash was flung 12.4 miles into the atmosphere. 
US Storm Watch said the eruption was the "most violent" eruption ever captured on satellite footage. 
Tonga's Hunga Tonga volcano just had one of the most violent volcano eruptions ever captured on satellite. pic.twitter.com/M2D2j52gNn

— US StormWatch (@US_Stormwatch) January 15, 2022
Some have compared the eruption to the "Hiroshima" nuclear bomb explosion.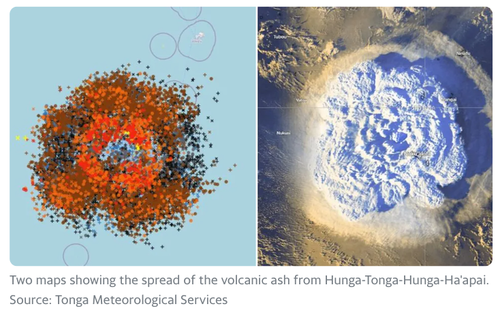 Shortly after the eruption, a tsunami warning was posted for Tonga. An advisory was issued for New Zealand's North Island. CNN affiliate Radio New Zealand (RNZ) said a tsunami hit Tonga's capital, Nuku'alofa, flooding coastal roads and properties.
Tsunami videos out of Tonga 🇹🇴 this afternoon following the Volcano Eruption. pic.twitter.com/JTIcEdbpGe

— Jese Tuisinu (@JTuisinu) January 15, 2022
RNZ said Tonga's King Tupou VI was evacuated from the Royal Palace, and residents were told to flee to higher ground. 
It is literally dark in parts of Tonga and people are rushing to safety following the eruption. 🇹🇴 pic.twitter.com/7NoP0y9GCo

— Jese Tuisinu (@JTuisinu) January 15, 2022
One Tongan resident told Yahoo News the eruption was "catastrophic," and ash and rock rained down on the capital. 
This family were in church. They'd just finish having choir practice and the tsunami hit 😩❤️🇹🇴 pic.twitter.com/DLLFRJ9BAc

— KNOWKNEE (@JohnnyTeisi) January 15, 2022
Twitter user Dr. Faka'iloatonga Taumoefolau posted a video showing waves coming ashore. 
"Can literally hear the volcano eruption, sounds pretty violent," he wrote. In another post, he said: "Raining ash and tiny pebbles, darkness blanketing the sky."
Raining ash and tiny pebbles, darkness blanketing the sky. pic.twitter.com/hAaiWATYKE

— Dr Faka'iloatonga Taumoefolau (@sakakimoana) January 15, 2022
Prof Shane Cronin, a volcanologist at the University of Auckland, told BCC this eruption is the biggest Tonga has seen in three decades. 
"This is a pretty big event – it's one of the more significant eruptions of the last decade at least. 

"The most remarkable thing about it is how rapidly and violently it's spread. This one was larger, a much wider lateral spread, much more ash was produced. I expect there to be many centimetres of ash that have been deposited on Tonga,' Cronin said.
Tyler Durden
Sat, 01/15/2022 – 10:45