Peloton Stock Bounes After CEO Disputes Report Of Layoffs, Production Halts
Update (2057ET): Shares in Peloton bounced after hours following a statement from CEO John Foley, who refuted reports of a complete production halt and layoffs, CNBC reports.
"This week, we've experienced leaks containing confidential information that have led to a flurry of speculative articles in the press," wrote Foley in a letter sent to "the Peloton Team" and posted publicly. "The information the media has obtained is incomplete, out of context, and not reflective of Peloton's strategy."
Foley added that they company had "identified a leaker, and we are moving forward with the appropriate legal action."
He called reports that the company had halted the production of stationary bicycle and treadmills "false," adding that layoffs were not a sure thing at this point.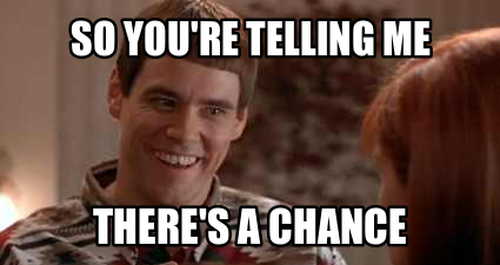 "We are still in the process of considering all options as part of our efforts to make our business more flexible," wrote Foley, who said that the company is "resetting our production levels for sustainable growth."
*  *  *
Update (1830ET): After a catastrophic collapse in the company's share price today – back below its IPO price – it appears Peloton is attempting to kitchen-sink things as it has just pre-announced revenue (miss), subs (miss), and EBITDA (beat but still a huge loss):
Prelim revenue about $1.14 billion, estimate $1.16 billion 

Prelim connected fitness subscribers about 2.77 million, estimate 2.81 million

Prelim adjusted Ebitda loss $260 million to $270 million, estimate loss $332.6 million 
John Foley, co-founder and CEO, whose net worth slipped to just $350 million today – well off the billionaires ranks, confirmed the actions that CNBC had reported earlier in the day…
"As we discussed last quarter, we are taking significant corrective actions to improve our profitability outlook and optimize our costs across the company.

This includes gross margin improvements, moving to a more variable cost structure, and identifying reductions in our operating expenses as we build a more focused Peloton moving forward.  

This work is still underway and we expect to have more details to share when we report earnings on February 8, 2022."
For a brief moment, PTON shares jumped on this release, but it did not last…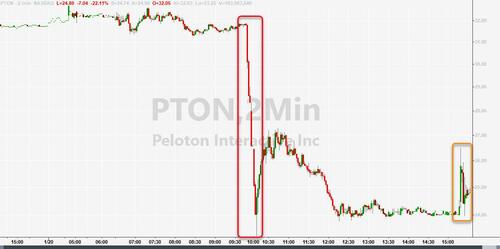 *  *  *
As we detailed earlier, Peloton Interactive, Inc. shares crashed more than 24% after CNBC reported internal documents from the company that said production of its bikes and treadmills would be temporarily halted due to souring demand. Shares have been halted and reopened several times…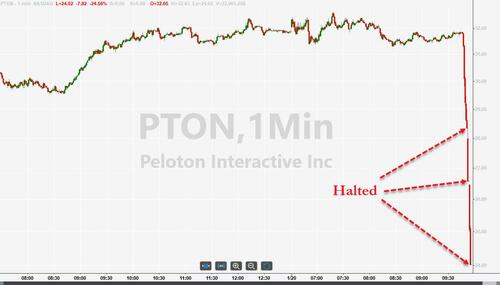 …and now trade at a significant discount versus the IPO price of $29…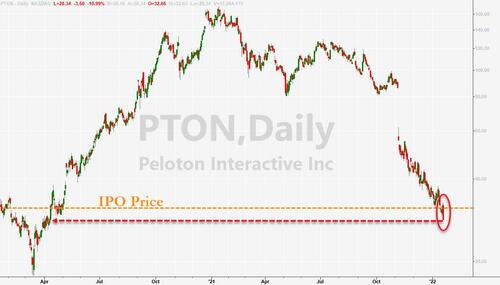 We suspect the chaps at Viking Global are a little saddle-sore this morning…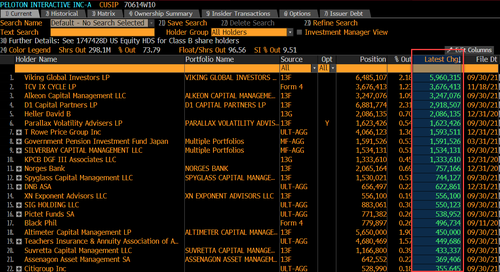 In a confidential presentation dated Jan. 10, the company (known for slapping an iPad on a stationary bike and charging thousands of dollars) said demand for its bikes and treadmill had faced a "significant reduction" worldwide.
CNBC explains more about Peloton's upcoming production halts: 
Peloton plans to pause Bike production for two months, from February to March, the documents show. It already halted production of its more expensive Bike+ in December and will do so until June. It won't manufacture its Tread treadmill machine for six weeks, beginning next month. And it doesn't anticipate producing any Tread+ machines in fiscal 2022, according to the documents. Peloton had previously halted Tread+ production after a safety recall last year.
Peloton has completely misjudged demand as it's stuck with thousands of cycles and treadmills sitting in warehouses across the country. 
We've been reporting on the Peloton story for the last week, citing multiple reports of storm clouds gathering over the company. The first was a notice from the company, informing new customers it would charge hundreds of dollars in fees for delivery and setup of bikes and treadmills. The second piece of news is the company working with management consulting group McKinsey & Co. to analyze cost structure and potentially slash jobs. 
Meanwhile, Peloton executives and insiders unloaded hundreds of millions of dollars in shares in prearranged 10b5-1 plans with an average cost basis well over $100. Insider selling stopped after a terrible earnings release in November.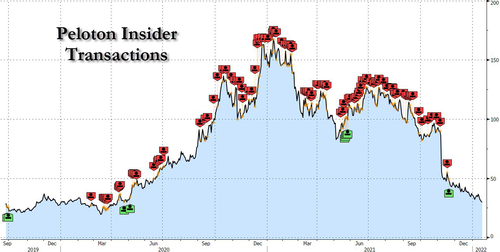 Insiders knew all long this was an unsustainable business (hence why they dumped into gullible retail). 
The recent release of the new Peloton Bike+ has yet to save the company. Maybe because the bike costs a whopping $2,500. 
As we've noted before, the company needs to quickly expand into the metaverse and engineer a short squeeze by saying it's coming out with a VR cycling product.
… or maybe this. 
Peloton needs to quickly pivot to powering bitcoin miners

— zerohedge (@zerohedge) January 20, 2022
Tyler Durden
Thu, 01/20/2022 – 20:58