Lousy, Tailing 3Y Auction As Buyers Balk Amid Violent Risk Reversal
Perhaps it had to do with the sharp market reversal that took place just after 12pm ET when the market focused on an article by AFP which repackaged an almost day-old ABC interview with Ukraine's Zelensky in which he said he is no longer pushing for NATO membership, which in turn sent risk assets soaring, or maybe buyers simply did not feel too excited about buying 3Y Treasury paper today, but whatever the reason today's Auction of $48BN in 3Y notes was lousy.
Stopping at a high yield of 1.775%, the auction priced at the highest yield since July 2019, and well above last month's 1.592. It also tailed the When Issued 1.763% by 1.2bps – the first tail since November 2021.
The Bid to Cover slumped to 2.389 from 2.452 in February, below the six-auction average of 2.414 and the lowest since November.
The internals were also lousy with Indirects sliding from 68.5% in Feb to just 55.1%, the lowest since December and below the recent average of 56.8. And with Directs taking down 18.6% left Dealers holding 26.3%, the highest since December.
Overall, a disappointing if not especially ugly auction, and one which we attribute to the sharp risk sentiment reversal half-way through the trading day.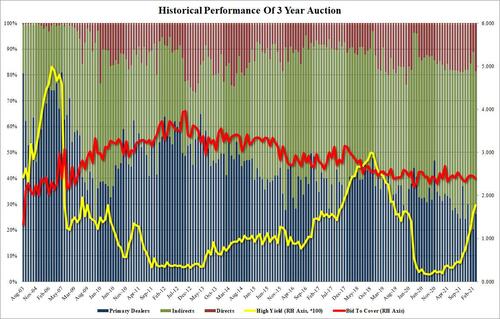 Tyler Durden
Tue, 03/08/2022 – 13:13