CPI Prints Hotter Than Expected In April – Hovers Near 40 Year High
After March's surge in consumer prices, analysts' consensus is that CPI has peaked and April was expected to show a big slowing from +8.5% YoY to +8.1% YoY, however, CPI printed hotter than expected at +8.3% YoY…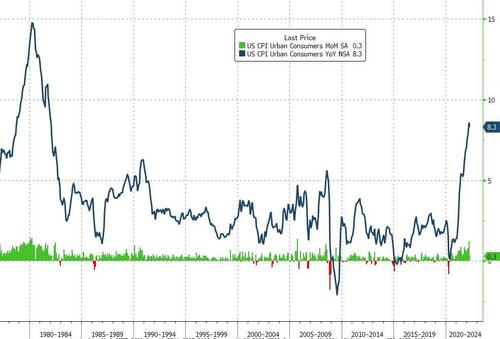 Source: Bloomberg
Bear in mind that headline CPI is still at its second highest since 1982.
Core CPI was expected to rise 6.0% YoY in April (down from +6.5% YoY in March) but rose a hotter than expected 6.2% YoY
Source: Bloomberg
Along with indexes for shelter, airline fares, and new vehicles, the indexes for medical care, recreation, and household furnishings and operations all increased in April.
The indexes for  apparel, communication, and used cars and trucks all declined over the month.
Increases in the indexes for shelter, food, airline fares, and new vehicles were the largest contributors to the seasonally adjusted all items increase. The food index rose 0.9 percent over the month as the food at home index rose 1.0 percent. The energy index declined in April after rising in recent months. The index for gasoline fell 6.1 percent over the month, offsetting increases in the indexes for natural gas and electricity.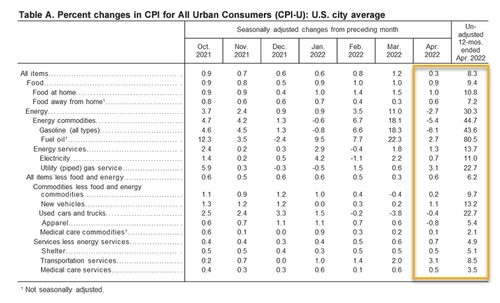 As Goldman noted, strong Services inflation will likely keep CPI elevated while last year's spike in goods prices will increasingly drop out…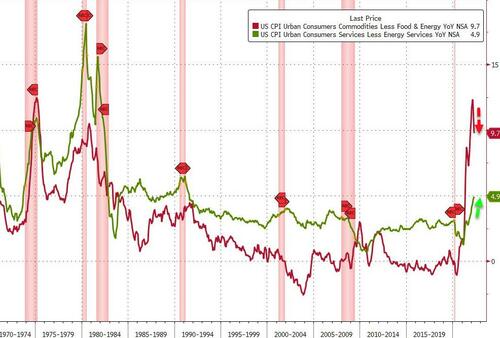 Source: Bloomberg
Developing…
Tyler Durden
Wed, 05/11/2022 – 08:34