"A Hoax": Trump Denies Nuclear Weapons Report, Likens To Steele Dossier
Former President Donald Trump on Friday called a Thursday report in WaPo that he took classified documents related to nuclear weapons "a hoax," and compared it to the FBI's use of the discredited 'Steele Dossier' – a notorious fabrication used during and after the 2016 US election to discredit Trump as a Russian asset.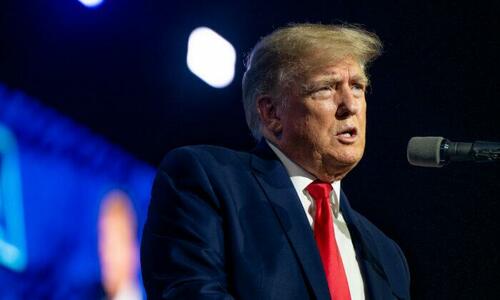 "Nuclear weapons issue is a Hoax, just like Russia, Russia, Russia was a Hoax, two Impeachments were a Hoax, the Mueller investigation was a Hoax, and much more," Trump wrote on Truth Social, adding "Same sleazy people involved."
"Why wouldn't the FBI allow the inspection of areas at Mar-a-Lago with our lawyer's [sic], or others present. Made them wait outside in the heat, wouldn't let them get even close — said 'ABSOLUTELY NOT."
"Planting information anyone? Reminds me of a Christofer Steele Dossier!"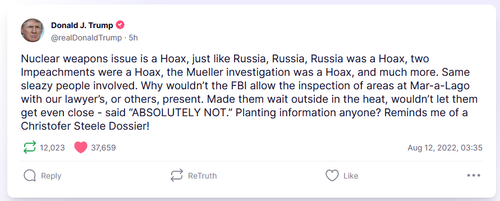 On Thursday, Trump demanded the "immediate release" of materials related to the FBI raid on his Mar-a-Lago residence.
"Not only will I not oppose the release of documents related to the unAmerican, unwarranted, and unnecessary raid and break-in of my home in Palm Beach, Florida, Mar-a-Lago, I am going a step further by ENCOURAGING the immediate release of those documents, even though they have been drawn up by radical left Democrats and possible future political opponents, who have a strong and powerful vested interest in attacking me, much as they have done for the last 6 years…" Trump said in a Thursday night post on Truth Social.
Meanwhile, Twitter is full of hot takes and reactions…
Beschloss is one of the half dozen historians Biden has been meeting with on a regular basis. Here he is casually floating the idea that Trump be executed for treason https://t.co/wYovpB22Vk

— Chuck Ross (@ChuckRossDC) August 12, 2022
Former FBI Deputy Assistant Director Terry Turchie says Merrick Garland would not sign off on a warrant to raid the Unabomber, but signed off on a warrant to raid Trump. pic.twitter.com/FbPfHhRWQf

— The Post Millennial (@TPostMillennial) August 11, 2022
"And these 'stolen nuclear codes,' are they…are they in the room with us right now?"

— Michael Knowles (@michaeljknowles) August 12, 2022
So the same guy who "blew the whistle" on Trump for "stealing boxes" leading to the Mar-a-Lago raid (David Ferriero) was sued in 2015 for failing to preserve Hillary Clinton's emails.https://t.co/vUZZRyGfRs

— Merissa Hansen🕵🏻‍♀️ 🇺🇸 ☢️ (@MerissaHansen17) August 11, 2022
By Monday, the New York Times will be running a story about how Trump had the Ark of the Covenant

— Dan Gainor (@dangainor) August 12, 2022
Crack-addled Hunter Biden leaving a laptop at a repair shop? Completely improbable.

Trump stealing nuclear secrets and the FBI waiting 18 months to seize them without arresting anyone? Totally legit.

The mind of Jonah Goldberg. Almost as if it's undergirded by bias. https://t.co/KEjZfk8Cr7

— Bonchie (@bonchieredstate) August 12, 2022
The agency that ran the Russia collusion hoax, the Whitmer kidnap hoax, went to war against the parents of school-age children, and did nothing during the violent summer of 2020, the attacks on Supreme Court Justices, churches, and pregnancy centers, has thoughts. https://t.co/rQsIztYYBA

— Mollie (@MZHemingway) August 11, 2022
Tyler Durden
Fri, 08/12/2022 – 12:45