Silicon Valley Bank, At Center Of Venture Capital Bubble, Suffers Record 47% Crash Amid Sudden Liquidity Crisis
Is the bursting of the tech bubble finally spilling over to the financial system?
One day after the biggest crypto-focused bank, Silvergate Capital, announced plans to unwind and liquidate after a deposit run effectively killed its core business model, this morning its far larger peer – the parent company of the venerable Silicon Valley Bank, SVB Financial Group – saw its shares plunge the most in more than two decades after the company took "steps to bolster its financial position" that included not only a highly dilutive stock offering but also a panicked asset sale that sparked fears of a liquidity crisis at one of the biggest and original providers of funding to the Venture Capital industry.
The Santa Clara-based company's shares sank by as much as 47% on Thursday, their biggest decline in the company's history since going public in 1987. The slump in the shares to their lowest level since May 2020, came after SVB i) announced a stock offering, ii) sold substantially all of the available-for-sale securities in its portfolio and iii) updated its forecast for the year to include a sharper decline in net interest income.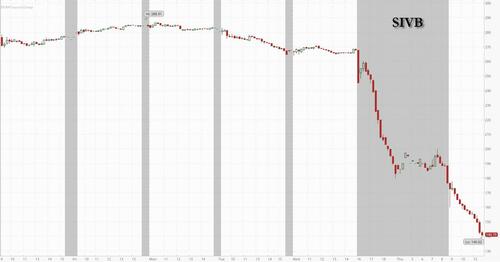 "While we view these actions combined with a weaker guide as a clear negative, we do not believe that SIVB is in a liquidity crisis, especially following the significant proceeds" from its sale of securities, Wedbush analyst David Chiaverini wrote as he cut his price target for the company to $200 from $250. Others clearly disagreed and dumped the stock at a pace not seen in a quarter century.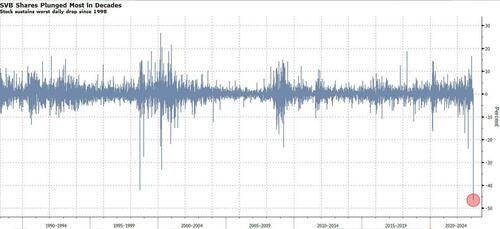 The bank also said it had sold about $21 billion of securities from its portfolio (with a plan to reinvest the proceeds but don't hold your breath) which will result in an after-tax loss of $1.8 billion for the first quarter. And the cherry on top was SVB's announcement of equity offerings for $1.25 billion of its common stock and $500 million of securities that represent convertible preferred shares. Additionally, General Atlantic committed to purchase $500 million of common stock, taking the total amount being raised to about $2.25 billion.
It wasn't immediately clear whether the SIVB liquidity crisis is a function of assets, i.e., loans collateralized by toxic early stage investments that have turned sour… or liabilities, i.e., a good old-fashioned deposit bank run.
"The improved cash liquidity, profitability and financial flexibility resulting from the actions we announced today will bolster our financial position and our ability to support clients through sustained market pressures," the company said in a letter to stakeholders but judging by the stock reaction, nobody believed it.
Tyler Durden
Thu, 03/09/2023 – 12:59