Bonds, Bitcoin, & Bullion Soar As Global Bailouts Fail To Stem Bank-Runs
SVB, CS, SNB (Saudis), SNB (Swiss), BTFP, ECB, & A Deposit-Reacharound…
Credit Suisse counterparty risk exploded and is completely ignoring the SNB bailout…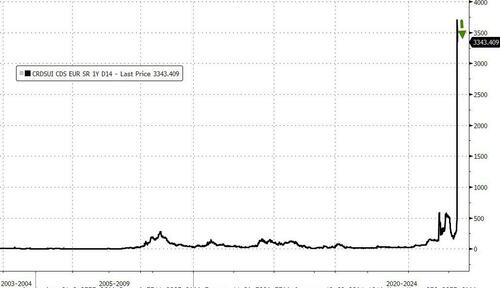 Source: Bloomberg
Still not worried, then how's this – USA sovereign risk just hit a new record high…
Source: Bloomberg
Simply put: Shit's breaking …and here is every policymaker everywhere all at once…
…and where do we end up.
US regional banks are down hard-er (as Fed transparency of the massive borrowings last week from their bailout facilities definitely spooked more than a few US investors)…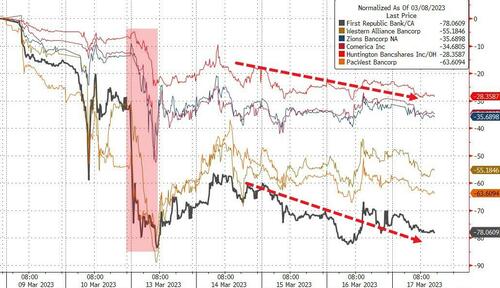 Source: Bloomberg
European bank stocks collapsed, erasing YTD gains and banking sector credit risk soared to 5-month highs…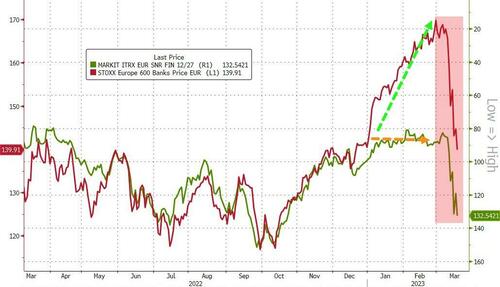 Source: Bloomberg
And CS stock price continues to tank to record-er lows…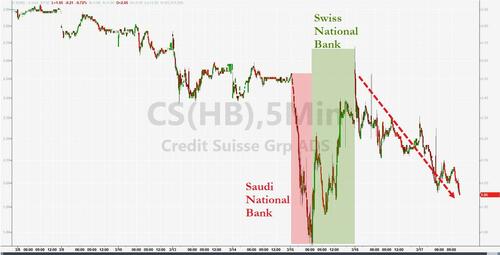 And First Republic Bank tumbled back down to recent lows, despite billions in handouts from the big banks…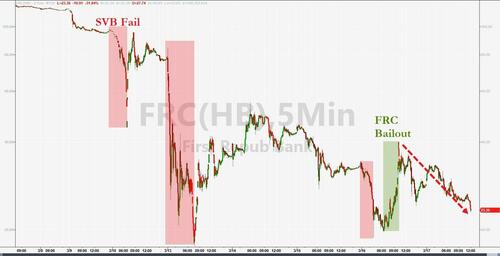 All things considered – the committee to save the world has failed for now as safe-haven flows flooded bonds, bitcoin, and bullion…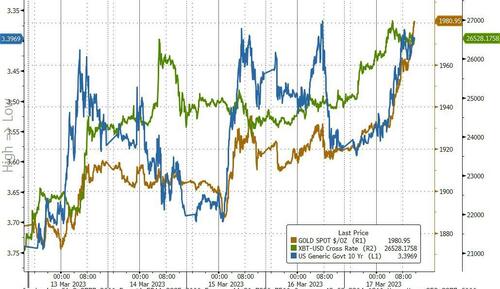 A mixed picture for stocks on the week withe Nasdaq the big outperformer while Small Caps were weakest. The Dow ended the week in red and the S&P slipped lower today but ended green…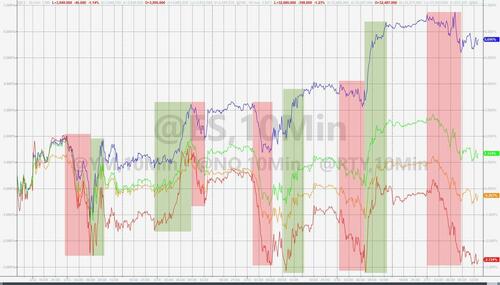 That huge outperformance of mega-cap tech over small caps is practically unprecedented. As Goldman notes,
1/ over the last 10 sessions, the gs basket of mega cap tech stocks is up 6.2%

2/ over the last 10 sessions, the russell 2000 is down 9.8%

3/ this 16% spread is the second highest of all time (one data point in Mar2020)…
…there has been a clear shift to tech stocks, and an even more clear shift to the ultra high market capitalization names
The S&P was unable to hold above its 200DMA…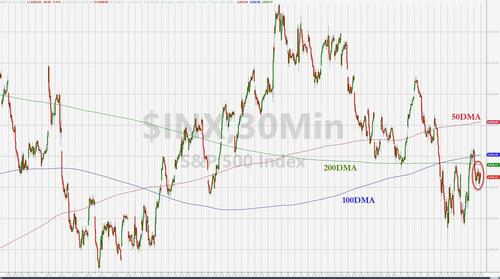 Energy and Financials were the week's ugliest horses in the glue factory while Technology (and Utilities!?) were the biggest gainers…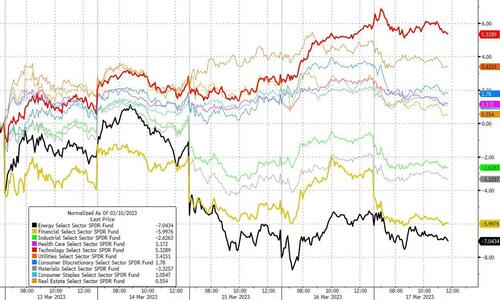 Source: Bloomberg
Office REITS were monkeyhammered this week…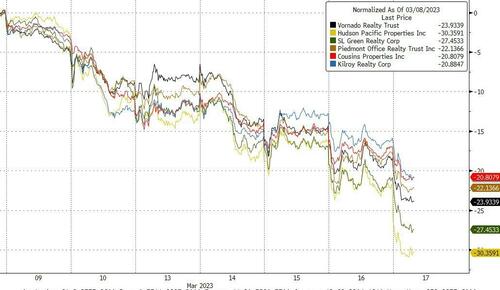 Source: Bloomberg
VIX has broken up into a new higher-vol regime for now…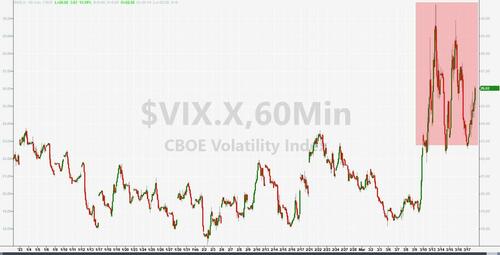 All Treasury yields were lower on the week with the short-end massively outperforming…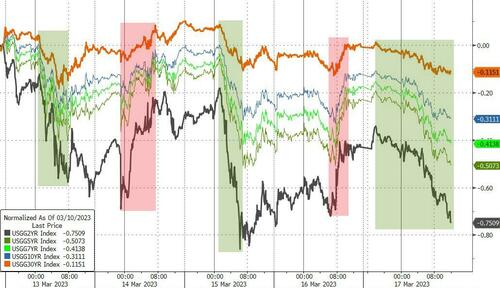 Source: Bloomberg
The last 7 days in 2Y UST yields (these are just the close-to-close moves) have been unbelievable (and ended below 4.00%): -20bps, -28bps, -61bps, +27bps, -36bps, +27bps, and -30bps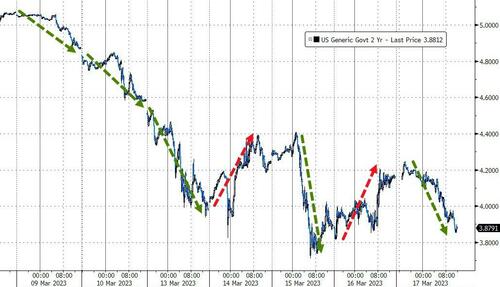 Source: Bloomberg
The UST yield curve steepened dramatically this week, bringing the case for recession even more imminent…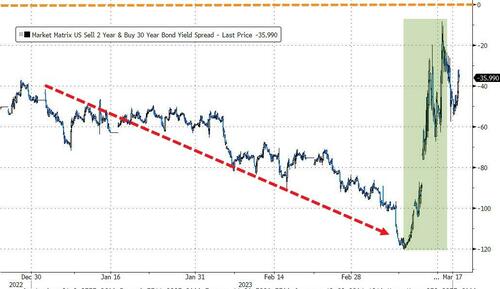 Source: Bloomberg
European sovereign yields plunged this week too…
Source: Bloomberg
The dollar ended the week lower, after a roller-coaster midweek…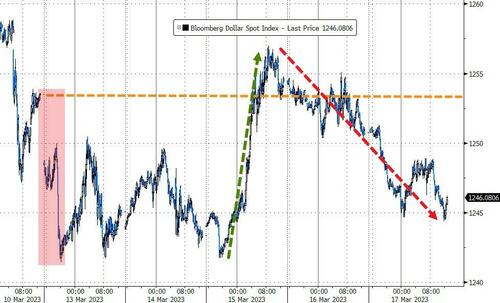 Source: Bloomberg
Crypto had a big week as QE is back on the table with Bitcoin dramatically outperforming…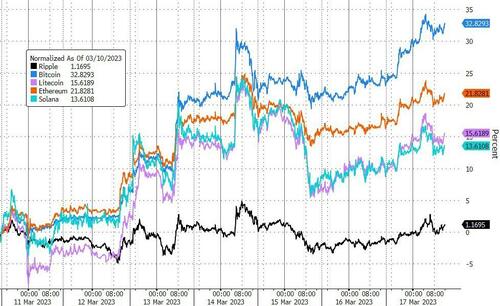 Source: Bloomberg
Bitcoin topped $27,000 today for the first time since June 2022…
Source: Bloomberg
Gold soared this week, back above $1950, to its highest since April 2022…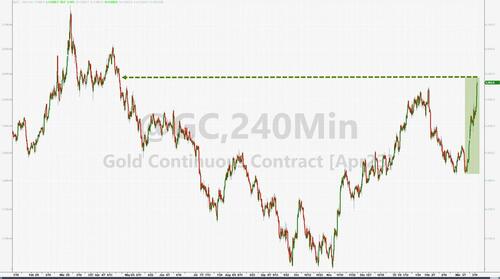 Silver outperformed Gold on the week but crude, copper, and NatGas all tumbled…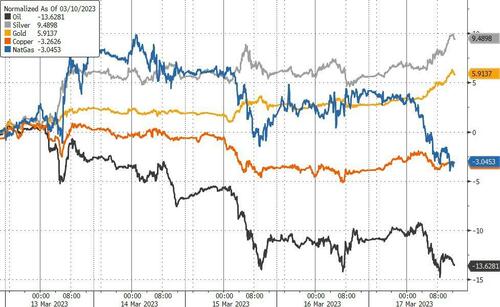 Source: Bloomberg
WTI puked to a $65 handle – its lowest since Jan 2022…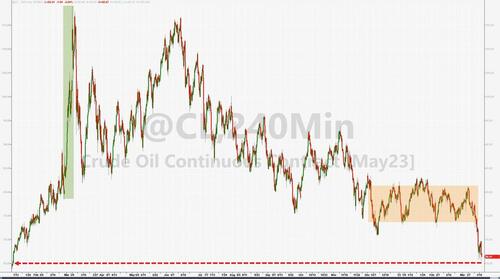 Finally, rate-change expectations have swung violently dovishly and hawkishly all week, but all dramatically more dovish than before SVB's failure…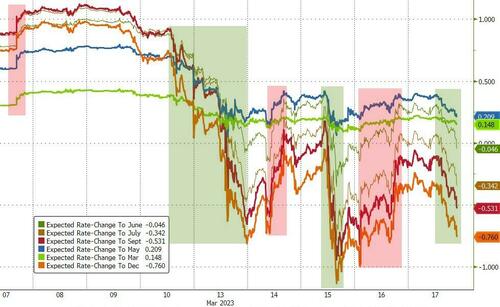 Source: Bloomberg
What difference a week makes…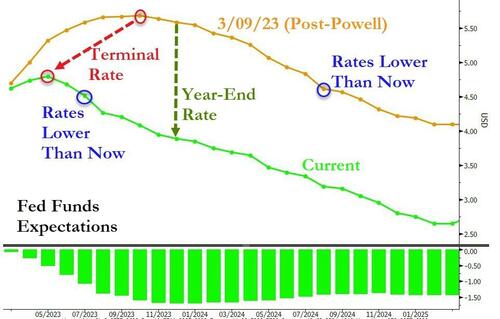 Source: Bloomberg
The terminal rate now appears to be in May (just one rate-hike) and by year-end, rates are expected to be 76bps lower (i.e. more than 4x25bps rate-cuts after May).
The market wants moar free money…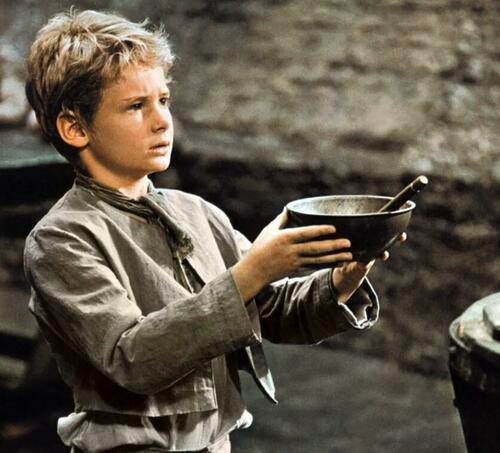 It would appear, if Powell is watching the market, that he is done for now (and that explains why bitcoin and gold are soaring).
Tyler Durden
Fri, 03/17/2023 – 16:01