First Republic Bank Shares Crash To Record Low On Share-Sale Report
For a few brief hours yesterday, some market participants breathed a sigh of relief as the 'big banks' threw $30 billion of deposits to the 'small banks' (specifically First Republic Bank) and saved the world.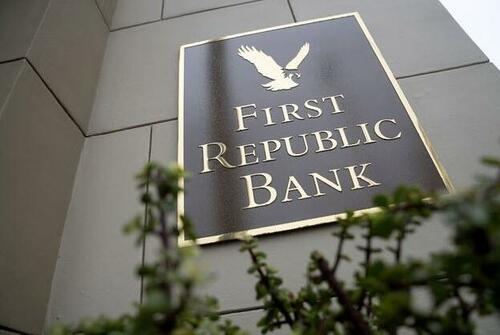 Today wrecked that dream as regional bank shares continued their recent and rapid demise with First Republic Bank – which had just been saved – leading the charge lower (after rallying yesterday afternoon).
Now, after the market has closed on a Friday evening (St.Patricks' Day no less), NY Times reports that the bank – freshly stuffed with $30 billion of the big banks' cash – is in talks to raise money from other banks or private equity firms by issuing new shares, in a desperate bid to bolster its finances.
We wish them luck in their efforts as Wedbush analyst David Chiaverini – who lowered First Republic to neutral today, warned that it's difficult to "come up with a realistic scenario where there's residual value for FRC common equity holders" in the event of a sale.
According to three people with knowledge of the process, the terms of the deal are unknown but a full sale of the bank is apparently possible.
First Republic Bank shares are extending losses in the after-market…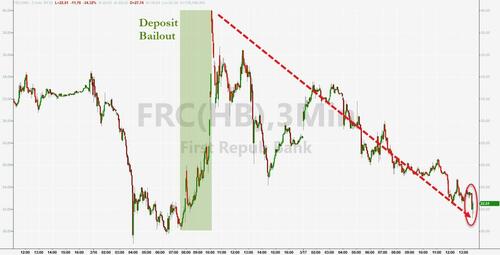 The after-hours action has pushed FRC to a record low, below its Oct 2011 lows…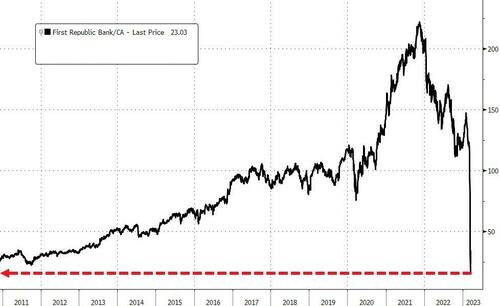 Analysts at UBS said that banking stocks would "truly settle only after the market feels as if there is a longer-term solution" to First Republic's woes.
The deposit injection is viewed as a band-aid to help the troubled bank meet short-term obligations. By comparison, raising money by issuing shares will allow the bank to strengthen the underlying business and bolster its ability to handle losses.
"The market may be interpreting that the $30 billion of new deposits that are going in may have staved off a depositor run, but it hasn't added any new equity to the bank," Arthur Wilmarth, professor emeritus at George Washington University's law school, said in an interview.

"The shareholders know that they are certainly at risk."
The bank's market cap is now slightly more than $4bn (down from $40bn in late 2021)…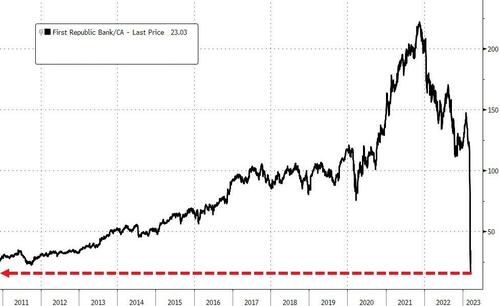 As a reminder, before the bailout yesterday, the bank was working with advisers on a possible sale to a larger rival or a rescue that could include a quick injection of cash to ensure that it had enough to pay out customer withdrawals going forward. The lender had also tried to shore up its finances last weekend with up to $70 billion in emergency loans from the Federal Reserve and JPMorgan.
Tyler Durden
Fri, 03/17/2023 – 17:01