UBS To Buy CS For $2 Billion; SNB Offers $100 Billion Liquidity, Authorities Force Bypass Shareholder Vote
Update (1300ET): The Financial Times reports that UBS has agreed to buy Credit Suisse after increasing its offer to more than $2bn, with Swiss authorities poised to change the country's laws to bypass a shareholder vote on the transaction as they rush to finalize a deal before Monday.
The purchase price is a fraction of the $8 billion market cap the company was valued at on Friday's close; it means that UBS will now pay slightly more than CHF0.50 a share in its own stock, up from a bid of SFr0.25 earlier today, but far below Credit Suisse's closing price of CHF1.86 on Friday.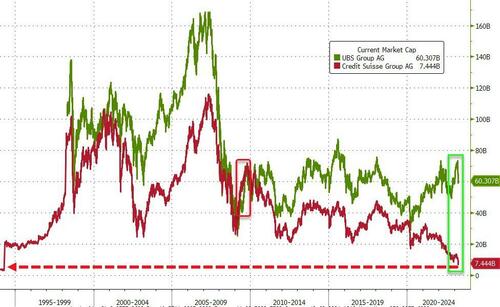 We also learn that UBS agreed to a softening of a material adverse change clause that would void the deal if its credit default spreads jump; it wasn't immediately clear if that entire clause was scrapped or if the CDS trigger was merely pulled wider.
UBS shareholders – who will not be consulted on the deal which will circumvent normal corporate governance rules by preventing a UBS shareholder vote – are angry. As FT notes, Vincent Kaufmann, chief executive of Ethos Foundation, which represents Swiss pension funds that own between 3% and 5% of Credit Suisse and UBS, told the Financial Times that the move to bypass a shareholder vote on the deal was poor corporate governance.
"I can't believe our members and UBS shareholders will be happy about this," he said. "I have never seen such measures taken; it shows how bad the situation is." 
As a reminder, here is a list of the 40 biggest investors.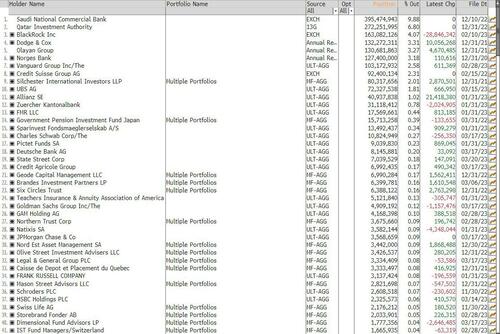 Finally, The Wall Street Journal reports that, in an effort to smooth the deal, the Swiss National Bank has offered UBS a whopping $100 billion in liquidity to help it take on Credit Suisse's operations,
In other words, the Swiss government has extended a liquidity line equal to ~$11.5MM on a per capita basis: said otherwise, every family of 4 is backstopping almost $50MM in UBS assets.
Using UBS to save Credit Suisse marks a turnaround from nearly 15 years ago, when Switzerland bailed out UBS after it got stuck with billions of toxic assets in its U.S. business. Credit Suisse declined state aid at the time and emerged from the crisis in stronger shape. 
*  *  *
Update (10:30am ET):  So much for Credit Suisse thinking it has leverage by balking at the proposed CHF0.25 offer from UBS. Just hours after it was floated that UBS could buy Credit Suisse for $1BN, a proposal which the bank's shareholders balked at, Bloomberg reported that authorities are now considering a full or partial nationalization of Credit Suisse – an outcome which would wipe out the equity and bail-in bondholders – as the only other viable option outside a UBS Group AG takeover. And yes, 0.25 is still more than 0.0.
According to BBG, "the country is considering either taking over the bank in full or holding a significant equity stake if a takeover by UBS Group AG falls apart because of the complexities in arranging the deal and the short time frame involved."
Needless to say, the situation remains "very fluid" and is changing by the hour as authorities seek to finalize a solution for the bank by the time Asian markets open, which is late evening in Europe, the people said.
*   *   *
Earlier
With just hours left until futures reopen for trading in what could be a very turbulent session, UBS has offered to buy Credit Suisse for up to $1BN the FT first reported, with Swiss authorities planning to change the country's laws to bypass a shareholder vote on the transaction as they rush to finalize the deal engineered to restore trust in the banking system.
The take-under offer was communicated on Sunday morning with a price of CHF0.25 a share to be paid in UBS stock, far below Credit Suisse's closing price of CHF1.86 on Friday. And while the current terms value Credit Suisse's equity at a paltry $1BN, the figure does not reflect additional provisions of around $6 billion from the Swiss National Bank to ensure the deal is done.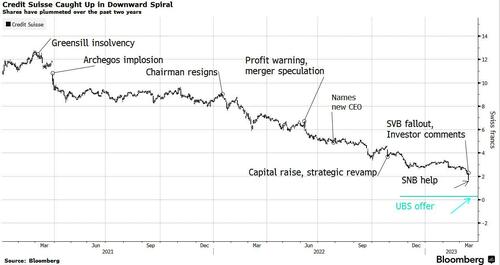 In other words, UBS gets an explicit $6BN central bank backstop (which would mean the central bank is in for a penny, in for a trillion), pays $1BN and gets a megabank whose Zurich headquarters alone is probably worth more. One can see why JPMorgan, pardon UBS would love the deal… and why Credit Suisse would be less than enthused.
The all-share deal between the two biggest Swiss banks is set to be signed as soon as Sunday evening and will be priced at a fraction of Credit Suisse's closing price on Friday, all but wiping out the target's shareholders, FT sources said. They also noted that in an unexpected twist, there will be a very unique material adverse exit clause: if UBS credit default spreads jump by 100 basis points or more, the deal is off! In other words, if the market balks at the pro forma deal and believes more contagion is coming, UBS wants none of it, and the Swiss government and SNB can deal with the fallout.
Needless to say, Credit Suisse shareholders – led by the Saudi National Commercial Bank, a full list of the top 40 is shown below – were less then enthused by the prospect of losing everything …
… and Bloomberg notes that Credit Suisse is pushing back on the proposed deal with backing from its biggest shareholder: "Credit Suisse believes the offer is too low and would hurt shareholders and employees who have deferred stock."
The FT echoes the skepticism, and says that the situation is fast-moving and there is no guarantee that terms will remain the same or that a deal will be reached: "Some of the people said that the current terms were unfair for Credit Suisse and its shareholders. Others criticised the plans to void normal corporate governance rules by preventing a UBS shareholder vote."
The reason why in this late hours there seems to be little convergence toward a consensus is because there has been limited contact between the two banks and the terms have been heavily influenced by the Swiss National Bank and regulator Finma, the FT sources said. Meanwhile, the Federal Reserve has given its assent to the deal progressing.
Both sides have been locked in discussions with regulators since Wednesday, when Credit Suisse asked the SNB to provide it with an emergency SFr50bn ($54bn) credit line. When this backstop failed to halt the collapse in depositor confidence and stock price – as we said it would – the central bank stepped in to force a merger after becoming concerned about the viability of the country's second-largest lender. Yesterday, we learned that deposit outflows from Credit Suisse topped SFr10bn a day late last week, after a record bank run pulled CHF111BN from the group in the final three months of last year.
According to the FT, on Saturday night, the Swiss cabinet assembled in the finance ministry in Bern for a series of presentations from government officials, the SNB, market regulator Finma, and representatives of the banking sector.
UBS will dramatically shrink Credit Suisse's investment bank, with Reuters reporting that some 10,000 workers will be let go, and the combined entity will make up no more than a third of the merged group, two of the people said. However, the current term sheet for the deal does not specify what will happen to Credit Suisse's individual business divisions, and simply outlines a 100% takeover of the group.
The government is preparing emergency measures to fast-track the takeover and plans to introduce legislation that will bypass the normal six-week consultation period required for UBS shareholders so the deal can be sealed immediately. The framework of the deal has been designed by Swiss regulators to provide maximum stability to the country's banking system, people briefed about the matter said.
However, if Credit Suisse balks at the takeunder – as it perhaps should and takes its chances in bankruptcy court where its equity may be valued higher than the paltry 0.25 – the Swiss National Bank, and all other central banks, will have no choice but to step with a shotgun bailout of the entire financial system for the second time in 15 years.
Tyler Durden
Sun, 03/19/2023 – 13:11